10 Most Frequently Asked Questions about SEO
10 Most Frequently Asked Questions about SEO
The world of search engine optimization, or SEO, has been changing rapidly over the past few years. Today, there are more tools available than ever before to help you achieve high rankings on Google and other search engines, but with so many new options, it can be difficult to determine which tools are really worth your time and effort. If you're looking to learn more about SEO and/or launch an SEO campaign for your business or clients, this list of the top 10 most frequently asked questions about SEO may help you get started.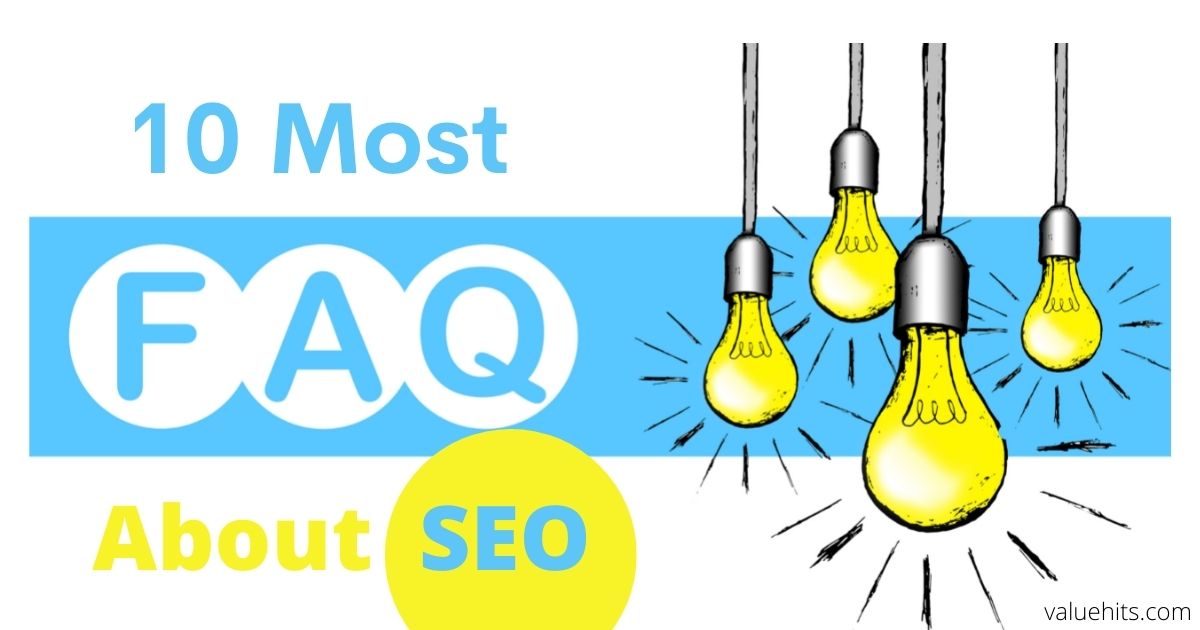 What does an SEO company do?
SEO stands for search engine optimization. SEO is performed to help a website rank higher in search results on major search engines like Google, Bing, and Yahoo. An SEO company will analyze your website's strengths and weaknesses, then optimize it so that more people can find your site when they use a major search engine to look for things you sell.
What does an SEO expert do?
SEO experts help companies attract visitors and grow their business by using SEO strategies. SEO is important for small businesses because it helps them get in front of potential customers, which leads to more sales and a larger customer base. SEO has become an essential part of marketing; if you own a business or are looking to launch one, SEO should be an integral part of your strategy, and you should look at hiring an SEO expert.
Why would I need an SEO expert?
These experts will make sure your site is properly optimized for search engines so people who are looking for what you offer can find it as quickly and easily as possible. This translates into more leads and increased sales for your business. If that doesn't sound like a good reason to hire an SEO expert, we don't know what does!
How long should be my page content be?
Depending on your industry, it's a good idea to have anywhere from 400 to 2,000 words on each of your website pages. Ideally, you should try to have between 500 and 1,500 words per page. To determine how long your content should be, take a look at other successful websites in your niche and see what they're doing with their content.
How much does it cost to hire an SEO professional?
Many business owners want to hire an SEO company or professional but are afraid to do so because they think it will cost a lot of money. But hiring an SEO company is not expensive, especially if you know what to look for and where to look. Try searching for SEO companies in your area and requesting quotes from each one.
How long will it take for me to see results from hiring an SEO company?
The short answer to that question is: it depends. SEO can take a while. The good news is that SEO has evolved dramatically in recent years. Changes made earlier on by Google have made SEO quite fast. However, unlike other kinds of marketing, there are no quick tricks or one-step fixes for SEO success: planning and sticking to your plan will pay off down the road.
Will my website is penalized for using too many links from other websites and forums?
Search engines can penalize your website for having too many links from other websites. It's best to have no more than 50-100 incoming links from external websites, forums and social media. Additionally, it's recommended that you use a diverse range of anchor text and high-quality, internal links on your own website.
Does my website have to be responsive?
There's really no reason why your website shouldn't be responsive—if you haven't heard of responsive design, here's a quick breakdown: Basically, it makes your website look good on any device (desktop, tablet or mobile). For an excellent example of a responsive site, check out The New York Times; at first glance, you won't notice that it is indeed a mobile-friendly site.
Does duplicate content harm my website's rankings?
Search engines generally frown upon Duplicate content, but it's not technically a violation of Google's guidelines (at least not anymore). With that said, duplicate content on your site can harm your rankings by making it appear as though you're trying to rank for multiple phrases using multiple URLs. The best way to avoid duplicate content is to make sure each page on your site has unique and valuable content on it.
Do I need to include keywords in my URLs, alt tags, etc.?
No, you don't. The most critical aspect of SEO is on-page optimization—that is, your website copy and code. If you have perfectly optimized content on a badly coded website, then that's a worse situation than having poorly optimized content on a well-coded site. (note: Avoid obvious spammy SEO practices like keyword stuffing.)
Conclusion
If you want to outsource SEO work, it's a good idea to hire an SEO company in Mumbai like us at Valuehits. You can learn more about our services by checking out our services. Keep in mind that your success with SEO is not guaranteed—nothing online is guaranteed—but hiring an SEO company does have a high probability of succeeding.
September 20, 2023
In today's digital age, having a strong presence on social media is crucial for businesses and pr
September 15, 2023
In the ever-evolving world of digital marketing, Search Engine Optimization (SEO) plays an import
September 13, 2023
PPC optimizations are essential to enhancing the effectiveness of your paid search advertising ca