5 Reasons to Use Instagram for Business
5 Reasons to Use Instagram for Business
Social Media Marketing
|
February 11, 2022
Businesses being on social media know how powerful the platforms can be. However, Instagram seems to be the winner when it comes to the best. Whether a small business or a giant B2B company, using Instagram for business as a tool will never disappoint anyone.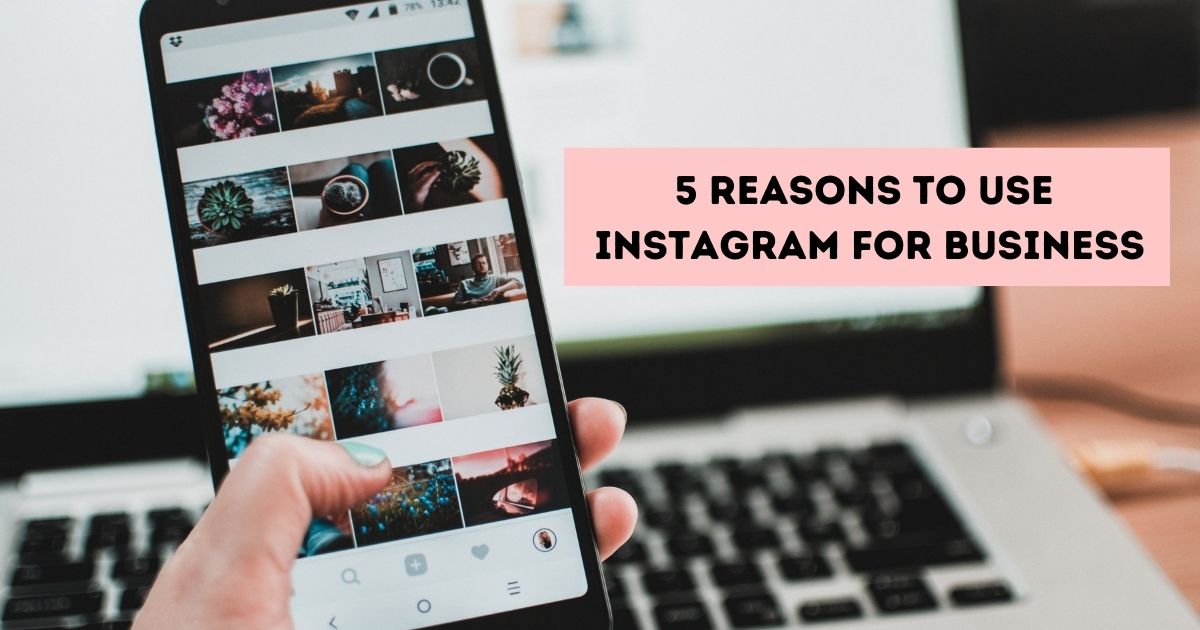 So why is Instagram the best marketing channel?
> According to Instagram's own study, 90% of people on Instagram follow a business account.
> Over 20 lakh businesses connect with their customers via Instagram.
> With a relatively young user base, Instagram has more than 90% of users under 35.
If you are satisfied with the Instagram statistics for business, you should definitely read our five surefire reasons why to use Instagram for business.
Instagram builds trust
Well, your competitors are searchable through hashtags, brand names, and even location. And so should you be because not finding you on such a trending platform will divert your customers' traffic to your competitors.
Moreover, having a verified business account will generate better trust in your business. The easiest way to build trust is to share quality content on your feed. With a verified company and a good amount of likes, you've already become a reliable, transparent and valuable business.
Another feature of Instagram, which is tagging your business location, allows people to find you easily once they visit you via social media posts.
A word-of-mouth referral
Whenever your customers are euphoric about your product or a client is impressed with you, they might eagerly search for your channel, use the products or services and add stories. This also has a possibility of your products or services getting tagged by followers, which further reaches a number of other people's feeds. Isn't this a great word-of-mouth referral strategy virtually? Once such users visit your Instagram account, they can buy or contact you via the call to action provided by you.
Selling products and services was never so easy
Followers follow accounts if they value them. So if you build quality followers, there's a good chance they will buy from you. About 38% of the customers claim that they are influenced by the social media handles of a brand, and about 35% of them say that the social media of retailers influence their decisions.
The Instagram layout allows you to add multiple pages for multiple products, which users can navigate through for buying. Instagram advertising lets you show off your products and services. By this, users can directly reach the payment portal by browsing through the variety of products on your page itself.
You can grow your networking and sales!
Yes, believe it or not, Instagram is a great marketing tool. You can go all the way from commenting, messaging to connecting with other like-minded businesses. This will be a perfect way of referring and networking when someone really needs your product or service.
Instagram is the best tool to keep users glued for a long time because of its scrolling feature. This increases your probability of getting more likes and comments. Once you start posting relevant and behind-the-scenes content, you will surely attract major talent desperately interested in working with you. From the link in bio, they will land on your website, increasing the amount of traffic to your page. More engagement means you have an increased presence leading to an increase in actual sales on the site.
You will be managing your online reputation as well
With a number of eye-opening stats here, it is definitely true that an Instagram account is a must. You optimize your online reputation to present the best form on search engines. What pops on the search engine when customers search for your brand is highly critical? Have you ever noticed how many social media sites show up on the first page results?
The aim is to show up. Show up with all your social media channels if you have a good chance to stack the first page with your brand's content.
There are influencers who can promote your services online. Influencers take it to the mainstream. Influencers uplift the way you get post likes.
Instagram is an important place for businesses, small to big, mom shops to MNCs.
These are just some of the multiple benefits of Instagram, which help way beyond the social media channels present out there. Wouldn't you like to take advantage of it by building up your Instagram presence?
If your organization wants marketing efforts to reach the map, get on Instagram.
If you are looking for money-making platforms, use Instagram.
If you are looking for a popular social media agency in Mumbai , we are ready to help you grow exponentially!
September 27, 2023
We looked at various data studies to determine when to post on Instagram, and the results are her
September 22, 2023
The importance of search engine optimization (SEO) cannot be overstated in today's digital landsc
September 20, 2023
In today's digital age, having a strong presence on social media is crucial for businesses and pr