6 Key Metrics for Ranking Your Website
6 Key Metrics for Ranking Your Website
Digital Marketing
|
March 25, 2022
If you're trying to rank your website, the problem may not be that you're not taking enough action but rather that you don't know what action to take next. It can seem like hundreds of different metrics help with search engine rankings, and they all seem equally important to getting your site where it needs to be in Google SERPs (search engine results pages). In this blog post, we'll focus on the key metrics of websites, how they are used in ranking algorithms and how you can use them to increase your site rankings.
6 Key Metrics for Ranking Your Website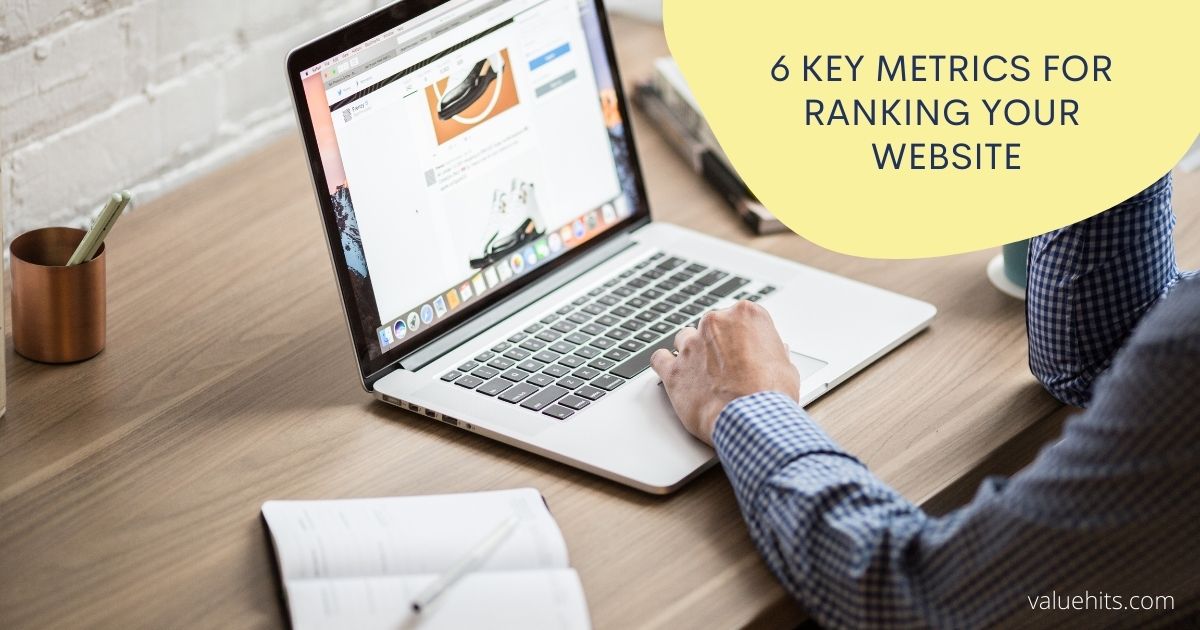 Keyword density
Before hiring any professional SEO services, look at their keyword density on client websites and ask if they used keyword stuffing because that can have a negative impact on rankings. If they say yes (which they shouldn't), then run away as fast as possible; no professional SEO service should ever use keyword stuffing as it's just not something that works these days in terms of ranking your website higher in SERPs. Stay clear of any service that advertises that practice; their old ways may still work for some, but only because Google hasn't updated its algorithm yet - definitely a short-term gain when it comes to ranking well with search engines - but don't expect long-term results from them either.
Penalty by Google
If you have an update on your website, make sure that it doesn't include links and other elements of SEO. The algorithm might consider them as spam and will penalize your ranking in SERPs. There are some common cases when penalties occur:
- duplicate content, hidden text, and on-page links
- stolen images, nonrelevant anchor texts
- adware or software installed with your domain
- desktop shortcuts backlink
- product feed linking directly to a product page with a buy now call-to-action button or nofollow link
- free shipping link that points only to the shopping cart page instead of the tracking number page or shipping status page.
If these things happen, call our expert and ask for affordable SEO services.
Meta Descriptions
Meta descriptions are very important in ranking a webpage well in search engines, but how do they get there in the first place? Have you ever wondered why Google doesn't give a whole lot of advice on them as it does for title tags and meta keywords? It turns out that it's because meta descriptions can be challenging to create effectively because of all those pesky rules! But, with professional SEO services, we will work together with you to ensure that your Meta Descriptions are optimized appropriately so that search engines can interpret them correctly and serve them up into their result sets at just the right time.
URL Optimization
The cornerstone of any successful SEO campaign, a site's URL plays a huge role in its search engine ranking. A poorly optimized URL will cause even a great site to get lost in SERPs, and hard-to-rank pages can be even worse! With the right optimizations, you will be provided thorough guidelines on how best to construct your URLs, whether it's for a new or existing site; doing so ensures Google picks up keywords and helps users navigate through multiple pages on your site more efficiently and easily.
Internal Linking Structure
Most sites are very well structured internally as it is one of the significant website key metrics to help you rank well. They use a variety of in-text, out-of-text, and internal links throughout their site to ensure that users will be able to find all of their content without getting lost. However, some sites don't do as good of a job at making it easy for users and search engines alike to navigate their sites. Review your site's internal linking structure, and make sure that every page on your site has at least one link back to a more general page (such as a homepage or an about us page). And if you have any pages that aren't linked from other pages on your site, then adding in some links should be high on your priority list!
Citations
Make sure that all of your business's information, like addresses and contact info, are consistent across all platforms: not just on their site but also in directories like Yelp and LinkedIn. That way, Google (and people) can easily find your business when they search for it. How do you know if you're good to go? The Moz Local SEO guide can give you an idea of where there might be gaps—and how easy it would be to fill them with citations from those directories and other sources that are relatively easy for a layperson to set up or update such as Wikipedia.
The Bottom Line
By addressing all of your website key metrics, we can tailor a professional SEO service for you that will boost your SERP rankings and put more money in your pocket. With affordable SEO services , we can make a real difference in just a few months by reaching out to new potential customers who are looking for what you have to offer. While everyone else is busy watching their backs and waiting for things to happen, let us take care of things for you so that all you have to do is sit back and enjoy more business from our expert Internet marketing tactics. Getting ahead in life isn't about how well others are doing; it's about getting yourself out there and being seen by people who could really use what you've got going on!
November 24, 2023
In the world of online advertising, the adage "less is more" often holds true, especially when it
November 17, 2023
With the ongoing expansion of digital marketing, search engine optimization (SEO) has emerged as
November 10, 2023
The largest online marketplace in the world for sales is Amazon.com. And it continues to expand.