7 Factors to Consider When Doing an SEO Audit
7 Factors to Consider When Doing an SEO Audit
Before you hire an SEO agency to help boost your website traffic, it's important to run your own audit first. Like in construction, certain factors influence how your company's online presence will turn out, and you want to know them all before hiring any firm or doing the work yourself. Here are seven of the most important factors to consider when doing an SEO audit for your website.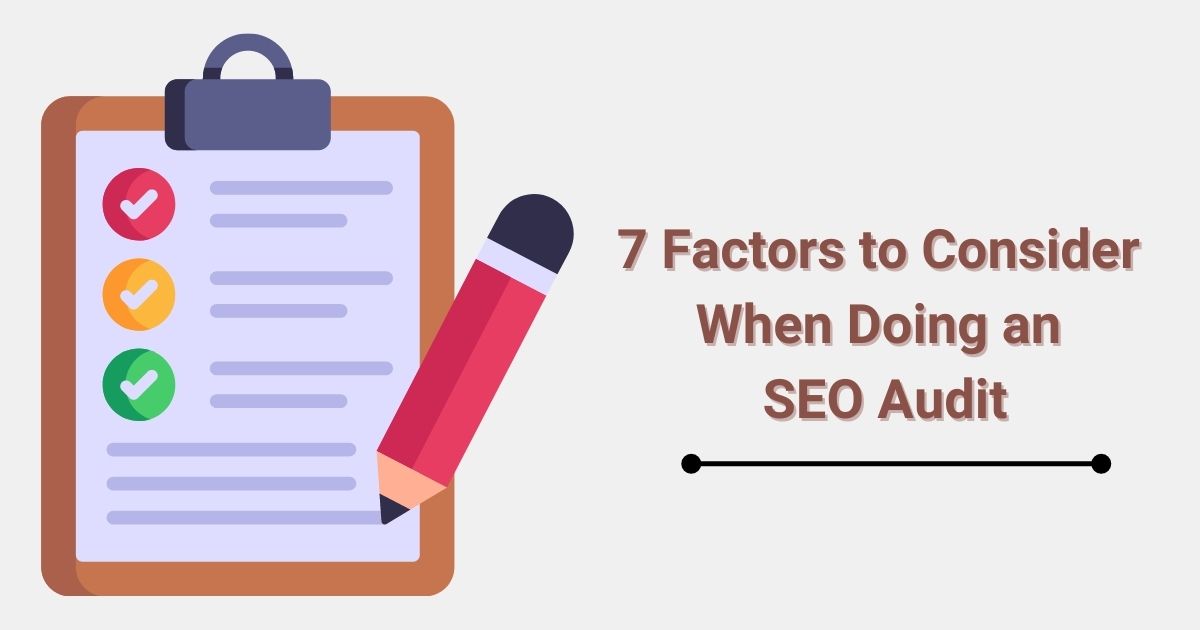 Review your internal link structure
Internal links connect your pages to each other. This helps search engines understand your site's structure and provide more relevant results for your users. Do you have internal links connecting your product pages? If not, do you need them? Reviewing and improving internal link structure is a good first step in SEO auditing and can greatly improve the user experience on a website. You may want to consider SEO agencies in India like us at Valuehits, which provides affordable SEO packages. Link building is one of the most popular services that we offer clients on their SEO audits. Working with a skilled professional can be beneficial since we already have experience doing many audit reports. Seek out a reputable professional like us when it comes time for your audit!
Review your keyword research data
The SEO audit is one of SEO's main techniques, and it starts with keyword research. The first step of your audit is to review your keyword research data and make sure you're targeting keywords that will have a high volume and low competition. An affordable SEO package can help you achieve these goals. Here are some factors to consider when choosing one. Before you start any SEO projects, you need to grasp what keywords and phrases people use in search engines when they look for businesses like yours. After all, if no one knows about your business or website, what's the point? At Valuehits - an SEO agency in India, our professionals can help you choose appropriate keywords so that people searching online find your website more easily.
Review your competitor's backlinks
A strong link profile is one of, if not THE most important aspects of SEO. A link-building audit will allow you to review your competitors' strongest links and determine which you can replicate and which you can try and steal. Use Ahrefs or Open Site Explorer (both are free) as a tool to perform a link-building audit. Pay attention to where your competitors are getting their links from: if they're building them mostly in-house (i.e., people linking out to their own site), that's a bit of a red flag—it means they have less influence than they probably should; but if they're able to build high-quality links on authority sites like Forbes, Huffington Post, etc., then great!
Look for low-quality links
One of your top SEO priorities is ensuring that you're not paying for low-quality links. If your business relies on its search engine ranking, having a link from a shady site with questionable content can quickly tank your page ranking and brand image. Before hiring any SEO service, look for reviews and ask about their policy when it comes to low-quality backlinks. Many companies offer affordable SEO packages or services—look into them! A reputed SEO agency in India like us at Valuehits would be another great place to look if you want someone local but with international reach and expertise.
Check if you have duplicate content
As part of your SEO audit, you should check for duplicate content. Suppose Google finds multiple instances of text, images or videos that are exactly alike in more than one place on your site. In that case, it will determine that you're trying to game search rankings by stuffing a bunch of duplicated copies onto your site. In other words, Google doesn't like when people try to trick its algorithm with duplicate content—so be careful how you dole out information across your website! It's also important to make sure you only use keywords naturally to avoid getting slapped with a penalty for keyword stuffing.
Review the title tags of your target pages
The title tag is what appears in search results, which means it's one of (if not) the most important factors in a page's ranking. It should accurately describe what a visitor will find when they click on your link and should be written with their needs (rather than yours) in mind. As you review your pages, see if any titles are confusing or don't properly identify what's on that page. If you're looking for affordable SEO packages for your website, look no further than Valuehits today!
Are you using structured data?
Google has been making big strides in structured data. The Schema Creator can help you incorporate rich snippets into your web pages. Many SEOs believe that incorporating structured data will improve click-through rates and help with your ranking with other search engines. You should consider using a tool like Moz's Open Site Explorer to see how much of your site is already optimized for structured data. If it's not a lot, you may want to consider hiring someone who specializes in SEO audit services, like us at Valuehits, for Indian businesses and get them on board before it becomes more important.
The bottom line
If you have a choice, it's always best to hire a team of experienced professionals who will take over your SEO needs. Search engine optimization is not something that can be learned overnight, and there are lots of problems (technical and otherwise) that cannot be solved without experience. If you want your site or business to really succeed in Google results, your best bet is to work with Valuehits - the best SEO agency in India .
September 20, 2023
In today's digital age, having a strong presence on social media is crucial for businesses and pr
September 15, 2023
In the ever-evolving world of digital marketing, Search Engine Optimization (SEO) plays an import
September 13, 2023
PPC optimizations are essential to enhancing the effectiveness of your paid search advertising ca