Bing ads strongly recommends to use https protocol
Bing ads strongly recommends to use https protocol
Ensuring customer privacy is crucial to your business and ours. To safeguard your customers' information and guarantee them your website is protected when they see your ad, Bing Ads strongly recommends you update your URLs to utilize the HTTPS protocol instead of HTTP. Due to the security and performance advantages associated with its benefit, HTTPS has become the new standard protocol used on the web. The web browser Google Chrome will begin marking all Opens in new window HTTP pages as "Not secure." Thus, if your website is still an HTTP URL rather than HTTP, Chrome users who click on your ads will see your URL marked as "Not secure" in the address bar.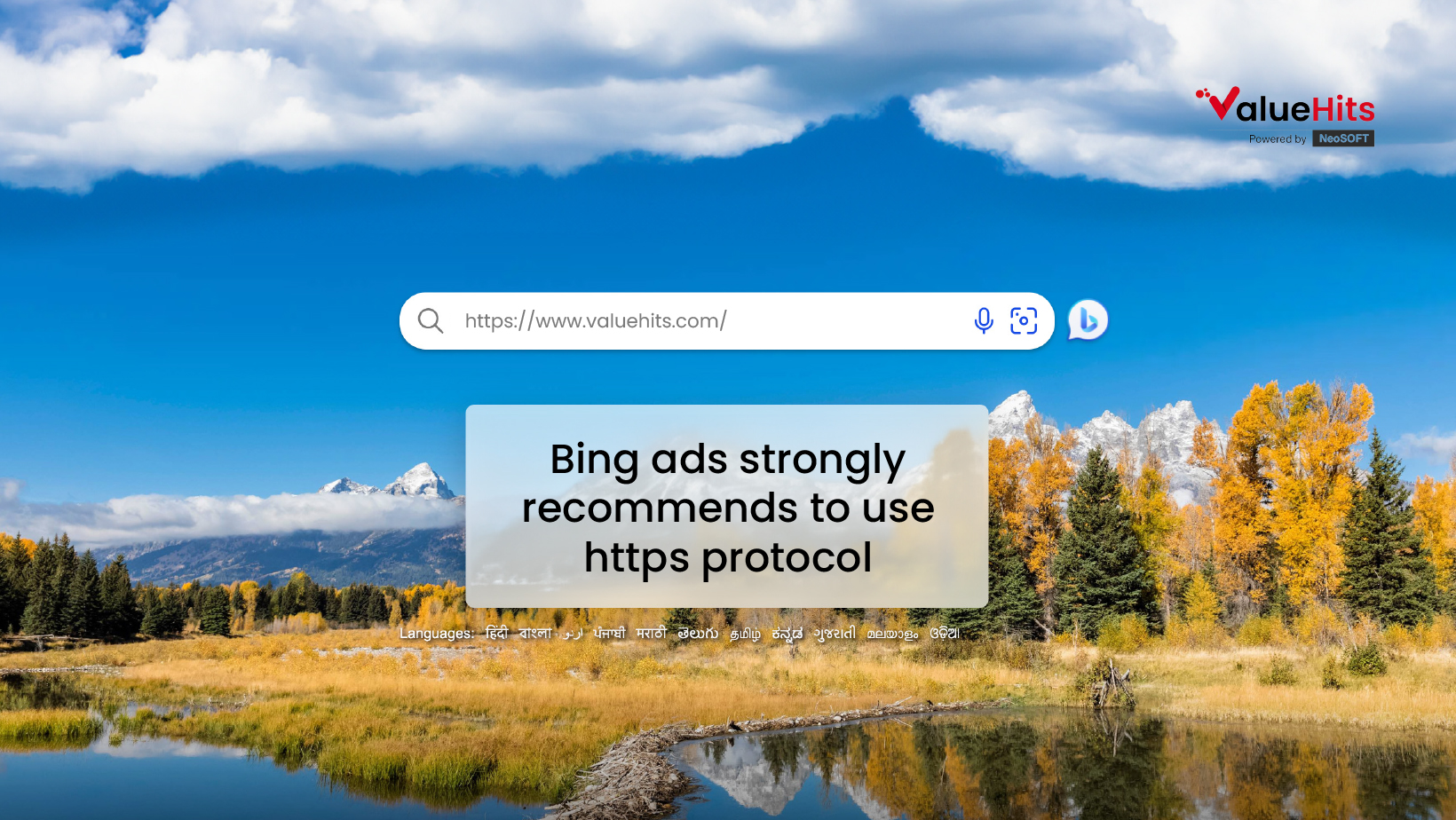 How can you check if your site supports HTTPS?
Open your website in a Google Chrome or Microsoft Edge browser and find which of the below-given situations apply to you:
• When you see a green lock icon to the left of the URL, it means your website supports HTTPS (for Edge, this lock may be transparent rather than green).
• If the page is not loading, it says your website is not supporting HTTPS.
• In case the lock does not appear, try re-entering your site's URL with "https://" rather than "http://."
What if your website supports HTTPS?
Modify your Bing Ads final URLs and mobile final URLs to use HTTPs. There are 3 ways to bulk edit ads and keywords.
• The bulk uploads feature "Opens" in a new window within Bing Ads (best for smaller accounts). For this option, download your ads and (if necessary) keywords from Bing Ads, update your URLs, and then upload your edited ads back into your Bing Ads account. You need to learn more about making changes with bulk uploads Opens in new window.
• The desktop tool Bing Ads EditorOpens in a new window
• Bing Ads APIOpens in a new window
Your keywords, ads, and extension will not go through an editorial review if you are only changing the protocol of their URLs from HTTP to HTTPS.
What if your website does not support HTTPS:
Contact administrator of your CMS platform. Afterward, follow the steps in the previous section, "If your site supports HTTPS," to modify your final URLs and mobile final URLs in Bing Ads.
*Note: We suggest you redirect instances of HTTP TO HTTPS to ensure old links keep working and visitors to your site are redirected to secure content.
November 24, 2023
In the world of online advertising, the adage "less is more" often holds true, especially when it
November 17, 2023
With the ongoing expansion of digital marketing, search engine optimization (SEO) has emerged as
November 10, 2023
The largest online marketplace in the world for sales is Amazon.com. And it continues to expand.