Improve Your Local Business's Reputation: Effective Strategies to Encourage Customer Reviews
Improve Your Local Business's Reputation: Effective Strategies to Encourage Customer Reviews
Digital Marketing
|
April 21, 2023
As a local business owner, you know the importance of online customer reviews for your business's reputation. Positive feedbacks can attract more customers, while negative reviews will be disastrous for your business. But how do you encourage your customers to leave reviews for your business? Here, we'll explore practical strategies to improve your local business's reputation by encouraging customer reviews.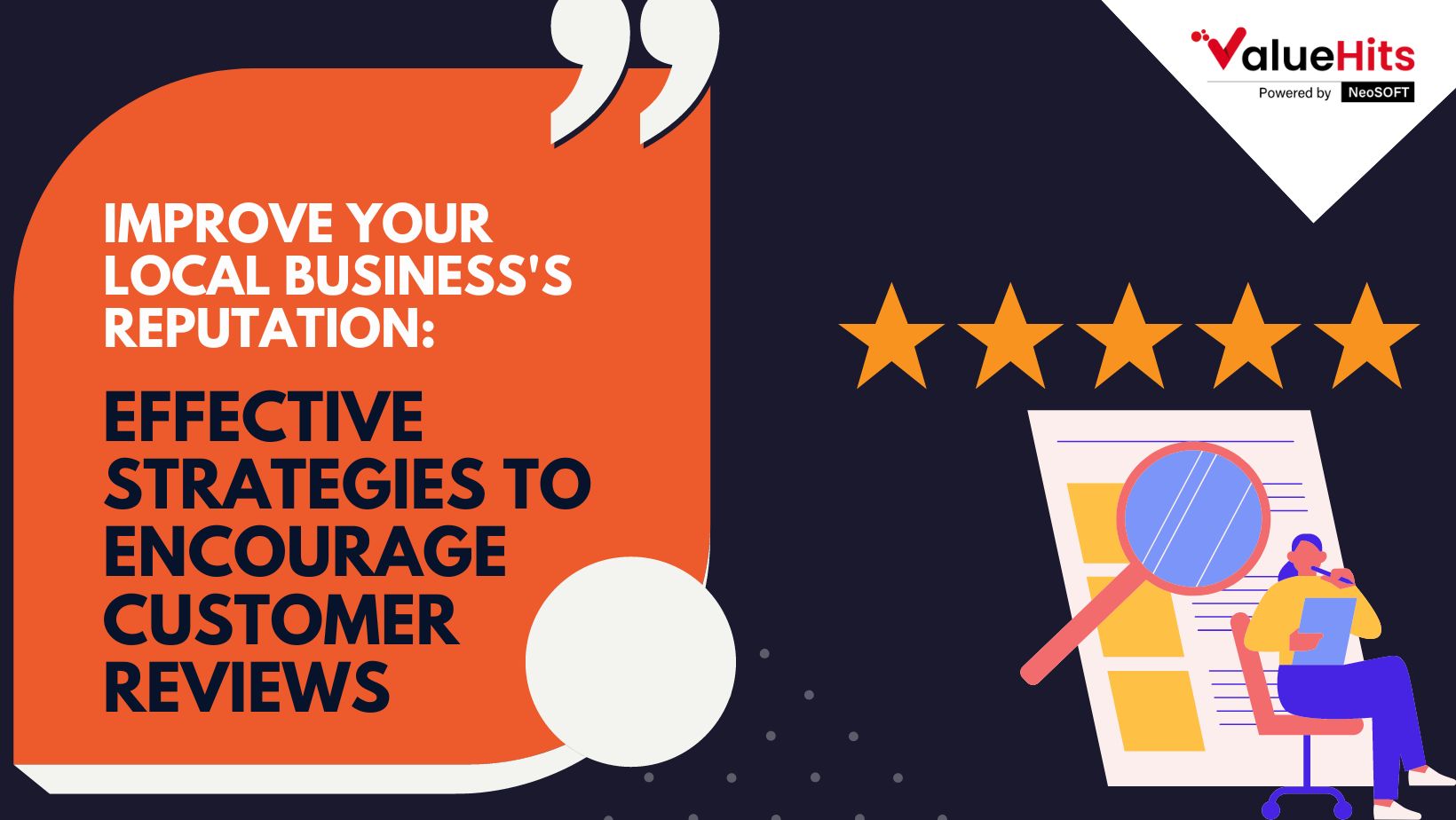 Provide Excellent Customer Service
Providing exceptional customer service is the best way to get positive reviews or feedback. Ensure your staff is knowledgeable, helpful, and welcoming to your customers. Respond to their queries and concerns promptly and efficiently. Customers who have a great experience are more likely to leave a positive review.
Make It Easy to Leave a Review
It should be easy for your customers to leave a review by creating profiles on review sites like Google My Business, Yelp, and Facebook. Include links to these profiles on your website, email signature, and social media pages. You can also try generating a QR code that customers can scan to write a review.
Incentivize Reviews
Offer incentives to customers who leave a review. You can offer discounts, freebies, or even a chance to win a prize. Ensure you're not offering incentives in exchange for positive reviews, as this is against the terms of service of many review sites.
Ask for Reviews
Be bold and ask your customers for a review. You can ask them in person, through email, or by including a request on their receipt. Ensure you're asking for an honest review and not pressuring them to leave a positive one.
Respond to Reviews
Make sure you respond to all reviews, whether positive or negative. Thank customers for their positive feedback and address any concerns or issues from negative reviews. By responding to reviews, you show that you care about your customers' experiences and are willing to address any problems.
Display Reviews on Your Website
Display your positive reviews on your website. It shows potential customers you have an excellent local reputation and encourages them to leave a review.
Online reviews have the power to alter your company's course.
Online reviews are a fantastic method to stay current on your company's progress, collect feedback, and increase your clientele.
And both the good and the terrible are like this.
Positive customer feedback highlights your strengths and convinces future clients to work with you.
You can accept responsibility, find areas of improvement, and transform negative experiences into positive ones when you receive negative reviews.
Online reviews are crucial for any company's success, especially locally. You can hire an SEO Company in Mumbai to strengthen your local SEO.
They bring an authenticity you won't find anywhere else by recounting actual interactions with your company to present and potential clients.
In conclusion, improving your local business's reputation through customer reviews is not rocket science. By providing excellent customer service, making it easy to leave a review, incentivizing reviews, asking for reviews, responding to reviews, and displaying reviews on your website, you can encourage your customers to leave positive feedback and attract more business.
November 24, 2023
In the world of online advertising, the adage "less is more" often holds true, especially when it
November 17, 2023
With the ongoing expansion of digital marketing, search engine optimization (SEO) has emerged as
November 10, 2023
The largest online marketplace in the world for sales is Amazon.com. And it continues to expand.