E-commerce Affiliate Marketing Strategies That Will Make You More Money In 2022
E-commerce Affiliate Marketing Strategies That Will Make You More Money In 2022
Digital Marketing
|
March 18, 2022
In a couple of years, e-commerce is projected to be worth $4 trillion worldwide, but there's still plenty of room to grow and prosper in that market. If you own an e-commerce website or business, affiliate marketing can be the key to building your customer base and making money from day one. With these e-commerce affiliate marketing strategies , you'll discover the best ways to attract new customers to your site, promote products you already sell and offer customer support through social media channels. You'll make more money in 2022 than ever before by following these steps!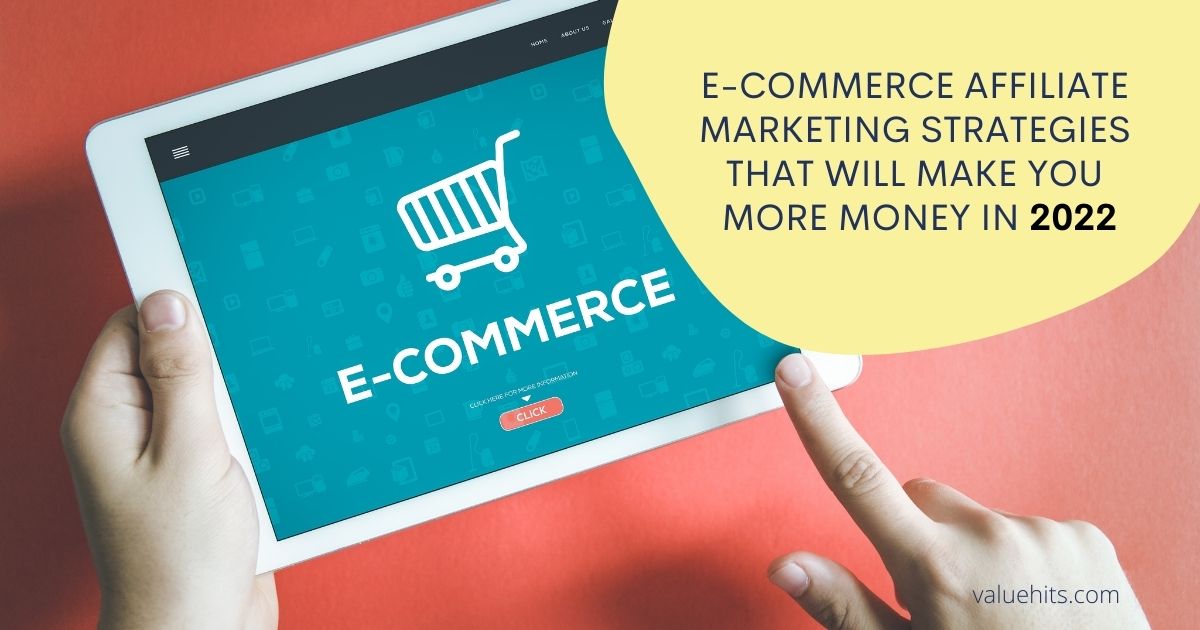 Why is affiliate marketing an important part of your strategy?
As e-commerce sales skyrocket, you may be wondering how you can get a piece of that action. You can tap into the global platform to sell just about anything with affiliate marketing. Suppose you know what people want to buy and how to market it effectively. In that case, you can make money quickly—and as a growing number of stores like Target and Apple struggle to get their own digital sales strategies off the ground, more power is shifting from retailers toward affiliates.
Why should you choose this method?
There are hundreds of great affiliate marketing networks to join, and you can choose from thousands of products to promote. If you put in a bit of effort, you can enjoy fantastic sales increases!
What kind of content works best?
A study published in a 2014 issue of Psychological Science found that people who took part in affiliate marketing are more likely to be influenced by information from a friend or family member than more traditional marketing. In addition, it was noted that affiliate marketers were more likely to share content that related to social networks and forums. This shows us how important customer reviews are when it comes to both consumers and affiliate marketers making purchasing decisions.
How to find affiliates who are a good fit for your brand?
Affiliate marketing is a great strategy for e-commerce entrepreneurs who are interested in growing their business but aren't sure how to do it. It's also a great way to bring more revenue into your business while keeping costs low and getting paid quickly. However, finding good affiliates can be tough—especially if you don't know where to look. It's time to get serious about affiliate marketing! Here are some things you should consider: Who Are Your Target Customers? - This may seem obvious, but when starting out with affiliate marketing, you need to understand who your target customers are. What do they read? What do they watch? Where do they hang out online? Finding affiliates that match up with that audience will help increase conversions and sales through them. Another consideration here is what kind of products or services does your brand sell.
How do I track which affiliates are doing well?
If you want to know which affiliates are doing well, you can reach out to your affiliate manager and access tracking software. However, we wouldn't rely on your affiliate manager—you have no idea how honest they are being with you. Instead, we'd set up Google Analytics UTM parameters for every affiliate link so that when a purchase is made, we get an email telling me what was purchased and from which affiliate site it was purchased.
How do I avoid burnout from all this work?
You're building a business around other people's products and brands with affiliate marketing. To get started, first make sure you understand what type of affiliate programs are out there so that you know which ones might be a good fit for your audience. Then work with Valuehits, a digital marketing company in Mumbai , to design ads and landing pages that entice your visitors. Build up relationships with bloggers in your niche by exchanging guest posts. This way, you can avoid all the hard work while the experts handle the complex parts of affiliate marketing.
November 24, 2023
In the world of online advertising, the adage "less is more" often holds true, especially when it
November 17, 2023
With the ongoing expansion of digital marketing, search engine optimization (SEO) has emerged as
November 10, 2023
The largest online marketplace in the world for sales is Amazon.com. And it continues to expand.