Ecommerce Website SEO Tips - 2022-23
Ecommerce Website SEO Tips - 2022-23
We are presenting you with Ecommerce website Seo Tips to boost your SEO game. Your online business or online products must be accessible to your potential customers. It is not that easy; therefore, you need Ecommerce Seo Tips For 2022. One needs to be ranked on the first page of Google's SERPs to grow their business. It could lead to a major downfall for a business if you are not reaching your online audience. Therefore, SEO is important. It helps you rank higher in the SERPs and make your business website more visible to your target audience. The more traffic, the more inquiries or conversations you will make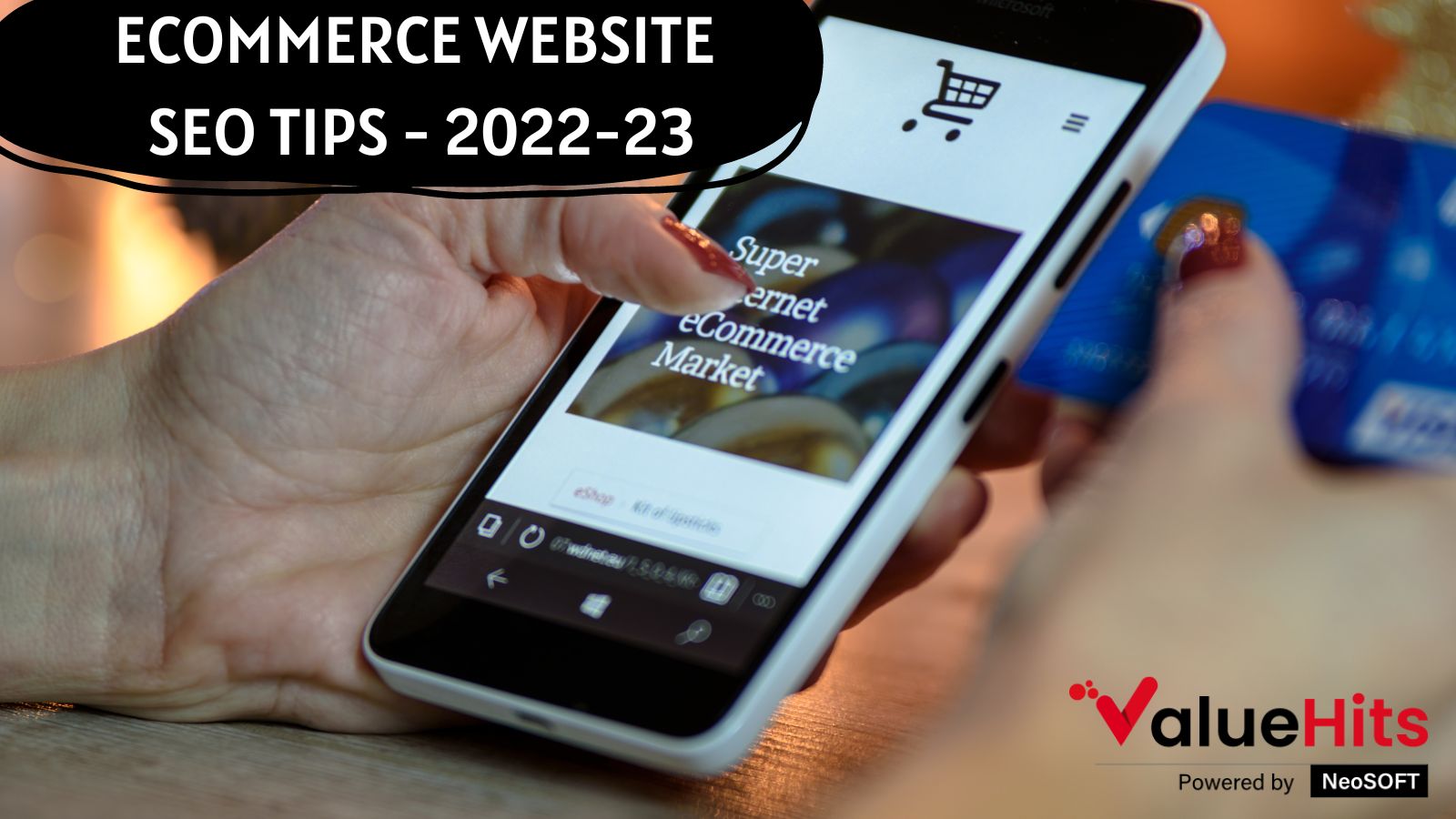 Here are a few seo tips for eCommerce websites
Add efficient keywords
The best way to rank your eCommerce website higher, is by finding the most appropriate keywords. Make sure to do some detailed keyword research to pick those that are suitable for your website. Long-tail keywords better the ranking as they are for specific niches that your competitors have not reached. Those keywords can attract the kind of traffic you desire. It will surely boost user queries.
It is one of the essential ecommerce website seo tips
Users are specific regarding their queries when they are searching on Google. Think of the keywords from the user's perspective.
Add strategic keywords in anchor text
Anchor texts will help boost your SEO ; therefore, it is also a great seo tip for eCommerce websites. Your website will be full of links leading to your pages, and you must optimize the anchor text to increase its ability.
Remember to make them look natural with anchors such as "here" one can also add strategic keywords that they want to rank.
Clearly, you must never use the same keywords in your anchor texts to avoid the penalty by Google. Adding essential keyword links in the product descriptions can increase the number of visitors to similar product pages you want to grow.
Write captivating product descriptions
Product descriptions that create impact with catchy headers or titles will increase the conversation rate.
Therefore, avoid using producer's product descriptions. Maintain them unique and attractive with relevant keywords to rank them on Google.
Never duplicate any content
Duplicate content can become an enemy for your ecommerce website. Ecommerce websites are observed to face this problem because they deal with several product descriptions. These descriptions are provided by the seller. E-commerce websites always display their product descriptions on various other websites.
In addition, filter and category options can generate duplicate content problems as those filters produce a variety of URLs with the exact content.
https://www.valuehits.com/blogs/11-seo-tips-e-commerce-stores-boost-holiday-sales
Optimize your product images
Ecommerce stores are highly dependent on images as they help to trigger higher sales. Remember, your images must be highly qualitative, appealing, and unique. But having attractive images is not sufficient if you want the bots to find those images. Images hold SEO potential as Google Images' search can boost your traffic.
Always remember to add the ALT tag.
Optimize your URL for search engine crawls
URLs are more important to SEO than you could understand. Optimized URLs help search engine bots to crawl your website and to understand what it is about. Proper URLs structures help ease your website indexation.
Besides, efficient URLs can tell your viewers or visitors what it is going to be about and better their experience. Additionally, a good user experience helps increase the dwelling time on your website. It shows additional chances for converting customers.
Never think about your SEO for search engines but in terms of user experience.
Do not add broken links
You are looking to add the best experience to all your visitors. Clicking on a page and landing on "Page 404 Not Found" is something they are not expecting. Therefore, broken links are a terrible idea. Then run the regular crawls for detecting whether you have 404 problems.
Check if traffic is converting into sales
Growing your traffic is one thing, but converting the leads into sales is a real task. You need to check if your daily visitors are becoming paid customers.
Google Analytics is the best tool to analyze your traffic and observe points for improvement. Therefore, you can determine from where your traffic is generating, the devices used for searches, the visitors that are most likely to convert, conversions produced through SEO, etc.
Enhance usability
Make your website navigation-friendly. The worst mistake that you can make is to not offer a navigation path. Always remember to link your product pages from your home page to relevant landing pages. This way the bots can crawl your website.
Conclusion
Here we end the ecommerce seo tips for 2022. We hope this list helps you to improve your website SEO.
September 20, 2023
In today's digital age, having a strong presence on social media is crucial for businesses and pr
September 15, 2023
In the ever-evolving world of digital marketing, Search Engine Optimization (SEO) plays an import
September 13, 2023
PPC optimizations are essential to enhancing the effectiveness of your paid search advertising ca