Factors to Consider Before Choosing the SEO Company
Factors to Consider Before Choosing the SEO Company
Ever wondered how you find exactly what you're looking for on the internet? Search engine optimization (SEO) can help with it. It is like a digital detective, checking vast databases to match your entered keywords and deliver you the most relevant results. The big players in this detective game are Google, Yahoo, and Bing.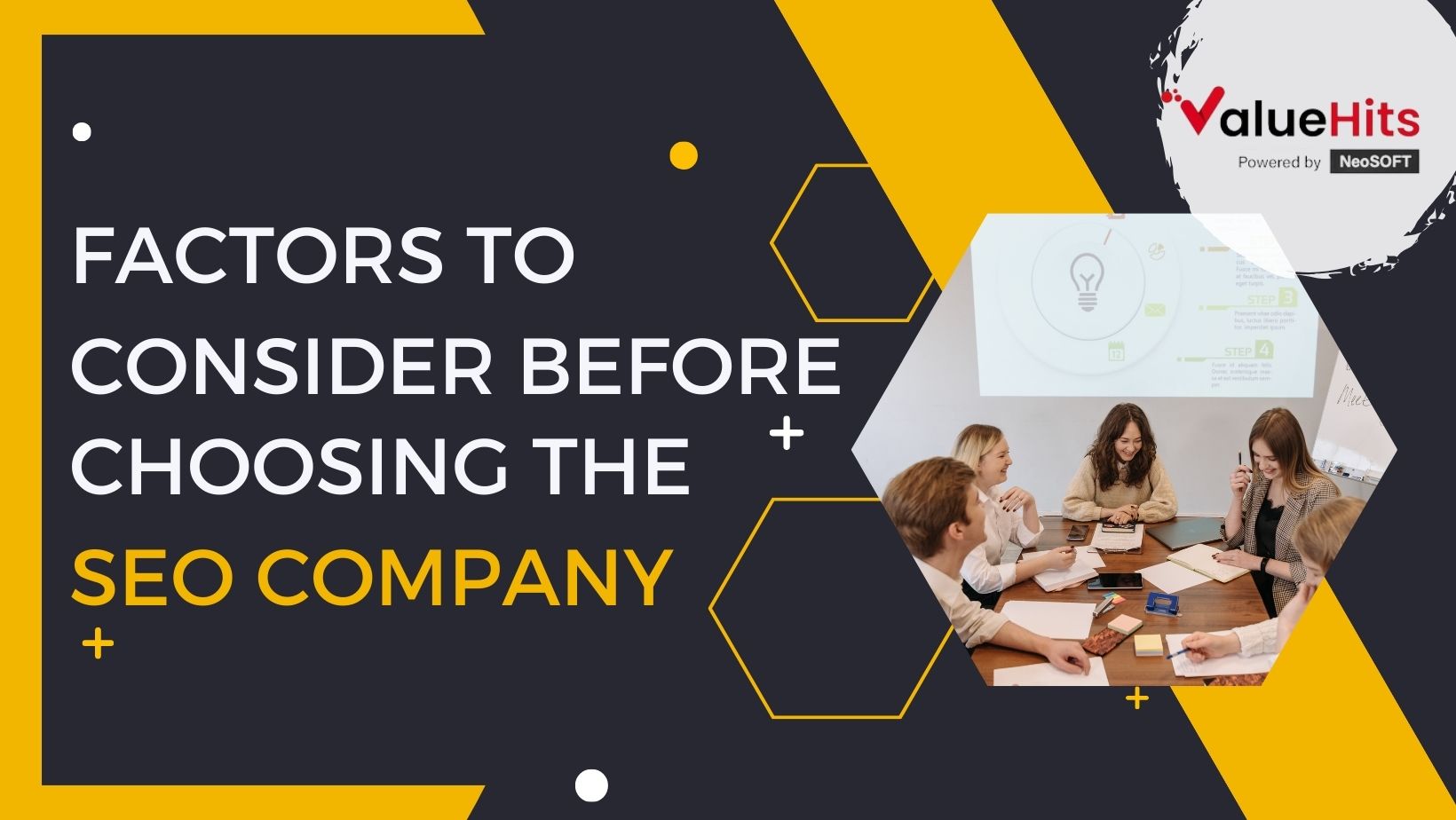 In today's digital world, SEO is booming, especially for businesses looking to reach a wider audience. SEO companies are on the rise, helping businesses generate high-quality content that effectively promotes their services.
If you're considering partnering with the best SEO company in India, there are a few important factors to keep in mind. Let's look at some of these important factors:
1. Conduct research, compare SEO firms, and read reviews.
Before selecting an SEO agency to aid in the growth of your online business, research is essential. Compare different SEO companies and read client reviews to discover more about a company and its business practices. This can assist you in locating a trustworthy firm that can support the expansion of your enterprise. You may rely on a number of trustworthy SEO firms to expand your internet business. These firms employ seasoned SEO specialists who can help you meet your company's objectives.
2. Request recommendations from other companies who have employed SEO services.
It can be beneficial to request recommendations from other companies that have used SEO services when searching for an SEO agency. This will give you a better understanding of the caliber of work the agency is capable of producing. In order to receive feedback on their experiences working with the firm, you may also ask for references from previous clients.
Referrals are a great place to start with.
Asking for referrals from people you trust that it is a smart idea for a few reasons, including the following:
Referrals come from people who are familiar with you and your firm, so they can suggest a business that will meet your demands.
If you ask for recommendations, you'll be more likely to receive good ones.
Through recommendations, you can avoid spending time and money on businesses that aren't a suitable fit for your requirements.
3. The types of SEO services offered.
The kind of services offered determine how successful an SEO venture is. Discuss this matter with the SEO service company. Look into the packages the company provides and determine if they will assist your business in generating more revenue.
4. Get a full understanding of pricing.
SEO is a long-term investment. Months may pass before noticeable improvements are seen. So, it's important to know what SEO tasks are included in the price you're being quoted.
The cost frequently includes strategy, research, implementation, reporting, and analysis. However, you could need more than this to get effective SEO. Additional tasks like copywriting, web development or coding, UI/UX work, and more could be required. Find out how an agency handles billing for tasks that are outside the original scope of the project and try to get a sense of whether or how frequently these out-of-scope jobs might be suggested by the agency.
5. Previous work.
An SEO company with extensive and diverse experience in the past could provide superior results. Experience is always a factor in producing high-quality work. It is always in the client's best interest to select a seasoned firm over a fresh one (unless the latter is incredibly excellent). You are spending time, money, and resources as a consumer. The result must be satisfactory. The work of the SEO agency is reflected in previous assignments' clients.
6. Quality of Work.
Authenticity, relevancy, accuracy, and dependability are paramount when creating quality material. Any website's backbone is its quality content. Everything else comes in second. The choice of an SEO company must consider the content's quality and capacity for improvement over time. These days, plagiarism is also pervasive. The greatest in the business will have thoroughly researched, authentic, and original content. The originality of content can be verified using specific plagiarism detection software.
7. Consumer assistance.
Understanding the customer alone is insufficient. Customer care is crucial. Keeping clients informed about the status of their work is essential. A reputable SEO company should provide weekly or montly reports to keep clients updated. Websites must keep up with the fast-paced nature of the virtual world, so quick action is crucial for a successful online marketing partnership. Regular client communication plays an important role in achieving this. Past client testimonials are included to understand how the particular firm operates.
8. Strive for transparency.
You should be aware of who will be working on your campaign and what work is being done on your website. Consider asking inquiries like these when interviewing SEO agencies:
How much communication should I expect receiving?
What SEO details will the agency provide?
What SEO strategy will be used?
9. Legal troubles.
Nobody wants to go into legal trouble. It is the same when it comes to choosing an organization for digital marketing. Use only ethical SEO methods when choosing an SEO company. This can ensure that Google algorithm updates, such as Panda, Penguin, Hummingbird, etc., will not have a long-term impact on the page and prevent issues.
Final Word
The SEO services offer a dynamic landscape where businesses can reach a wider audience. Consider the given factors, such as understanding your specific needs included in the package. In the world of SEO services professionalism, experience, and efficiency should guide your choice of agency, ensuring your online presence achieves the success it deserves.
September 20, 2023
In today's digital age, having a strong presence on social media is crucial for businesses and pr
September 15, 2023
In the ever-evolving world of digital marketing, Search Engine Optimization (SEO) plays an import
September 13, 2023
PPC optimizations are essential to enhancing the effectiveness of your paid search advertising ca