Five Digital Marketing Trends You Need to Know for 2022
Five Digital Marketing Trends You Need to Know for 2022
Digital Marketing
|
October 22, 2021
Digital Marketing trends keep on changing every year. Here are the top five trends you need to keep in mind for digital marketing for the year 2022.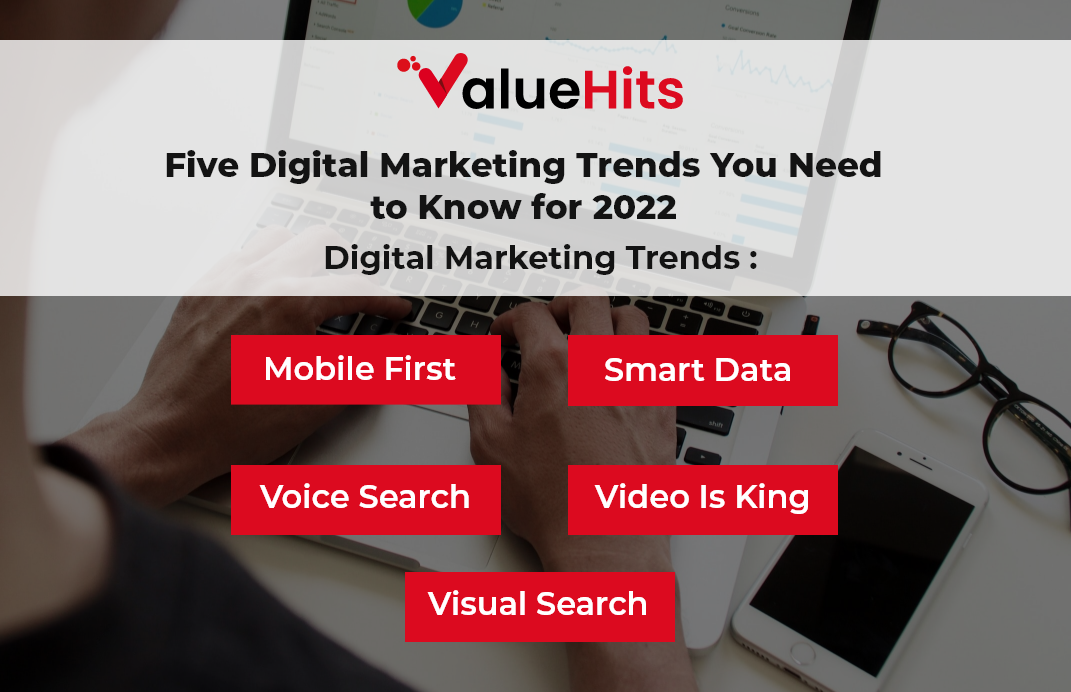 It's hard to predict the future, but one thing that's likely to remain faithful no matter what happens is that digital marketing will play an essential role in every company's success strategy. In fact, it's already proven itself as an integral part of the future of marketing, with trends like e-commerce and online brand awareness taking hold of marketers worldwide – and it's only going to get more effective from here on out. If you're looking to stay ahead of the competition, these five Digital Marketing Trends you need to know for 2022 will help give you a good head start!
Digital Marketing Trends #1 – Mobile First
It's no secret that mobile use is skyrocketing. By 2022, 69% of all internet traffic will be generated by mobile devices (that's nearly three times more than desktop computers). This is why we predict digital marketing trends in 2022 and beyond will be focused on creating content and advertising that works on all types of mobiles. Also, the content you create needs to be mobile-friendly. It can be as simple as adapting your website to smaller screens or even creating apps specific to smartphones. And do not forget about AMP (Accelerated Mobile Pages), which helps content load faster on smartphones and tablets.
Digital Marketing Trends #2 – Smart Data
The Role of Artificial Intelligence in Digital Marketing in 2022. In 2019, marketers have been experimenting with artificial intelligence (AI) and machine learning technology. In five years' time, AI will be a core element of digital marketing strategies. Using smart data will allow marketers to better connect with customers and discover their pain points, turning these insights into unique value propositions that help position your business as a leader in your industry.
Digital Marketing Trends #3 – Voice Search
According to Cisco, 25% of all search queries were made using voice in 2020. And this percentage is only set to rise in the coming years, thanks to easy access to intelligent voice assistants. If you're not already heavily targeting keywords related to voice search on Google, it might be time to start. If your marketing budget is tight, try leveraging free or low-cost tools like Amazon Alexa or Tellmebox. If you don't have a budget at all, you can still take advantage of Alexa skill kits and create content that helps your audience.
Digital Marketing Trends #4 – Video is King
Video is exploding in popularity, especially with younger audiences. If you're not on board with video marketing yet, now is definitely the time to get started. According to Forbes, video is one of the top 10 digital marketing trends that brands can't ignore — and it will only become more critical as time goes on. With short video formats like Reels and Youtube Shorts, video content consumption has exploded, and it's set to rise more in the coming years.
Digital Marketing Trends #5 – Visual search
With today's technology, you can do a lot more than just click pictures with your camera. There are apps and even Google's own Lens that allows you to capture an image or take a live view of what's presented in front of the camera. This enables users to search visually using the camera app, Google lens, or even a variety of different apps available in the market. Brands can hop over to this trend, take the first advantage and make the most out of it.
Conclusion
If you're going to invest in a digital marketing agency, your investment must generate a return. There's no room for hesitation, doubt, or taking unnecessary risks. In fact, there's only one way to go forward. To be successful with your search for an affordable digital marketing agency in India that will deliver results at scale, you need a plan of action—and our checklist is just what you need.
September 20, 2023
In today's digital age, having a strong presence on social media is crucial for businesses and pr
September 15, 2023
In the ever-evolving world of digital marketing, Search Engine Optimization (SEO) plays an import
September 13, 2023
PPC optimizations are essential to enhancing the effectiveness of your paid search advertising ca