Hire An Expert And Rock Your Local Business' Social Media Marketing Strategy
Hire An Expert And Rock Your Local Business' Social Media Marketing Strategy
Social Media Marketing
|
April 1, 2022
You've already done the hard part and created a killer social media marketing strategy for your local business, so now all you have to do is put it into action, right? Sorry to say, it's not that simple. Without at least some experience in social media marketing, your strategy may end up costing you time and money and not doing much in the way of drawing new customers to your store or restaurant. You could always hire an expert Social Media Marketing Expert who knows how to get results.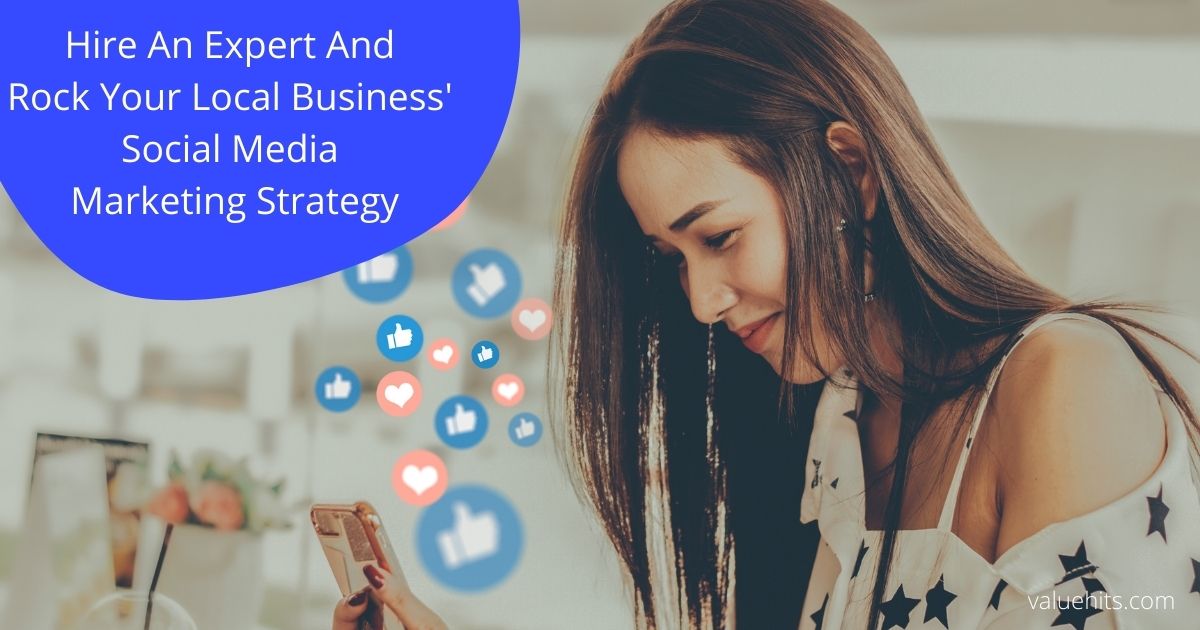 Connect with your customers in the right places
If you have an existing business, it might be tempting to stick with what you know about social media. But if you are starting a business from scratch or want to take your startup online, start by figuring out where your target market is spending their time online. Are they on LinkedIn? Do they prefer Twitter? Is Snapchat their favorite platform? Once you figure that out, then come up with a plan for how to connect with them in those places.
Say no to aggressive sales pitches
While it might sound like a good idea to drop an aggressive sales pitch on your audience and tell them why they need what you have, social media is better served by subtlety. While it might be easier for you to get your point across when you're aggressively pushing an agenda, it can work against you if your target audience comes off as being sold too hard. At worst, pushy tactics will make people feel like you're invading their privacy, and at best, they'll just turn away from your business and look for something better suited to their needs. Make friends first, then sell later. Remember: Sales should not be in your social media marketing strategy - Engagement should be! You want people to engage with your business on their terms, not yours.
Find out their interests
Researching what people are interested in helps you put together a plan that targets your potential audience. Take surveys, ask friends and family or hire a social media expert to help you out. You want to see if there's an appetite for your business in your area, so learning what competitors are up to is also key. If people aren't talking about local businesses on their social media accounts, it might be because they're not actually on social media! Just as traditional marketing has evolved into digital marketing, offline efforts like flyers and posters now have digital versions—like Facebook ads or Instagram posts. It's better to find out through research than trial and error!
Have a complete social media profile
The first step in an effective local social media marketing strategy is filling out all sections of your company's social media profiles. As a general rule, you should complete these sections: name, address, phone number, email, and website URL. Doing so makes it easier for people to find you in search engines (name and URL) as well as click through to your site from any social profile page they visit. More importantly, complete profiles give credibility and trust because they are indicative of a professional business on top of its online game. The fact that you have time to fill out each section (not just N/A for every box) is perceived as being more credible than competitors with incomplete or even empty profiles.
Run special contests and promotions
Are you trying to boost your social media marketing strategy? Running a contest or special promotion is one of the easiest ways to do it. It can also be a great way to create an extra wow factor for fans, giving them something they can tell friends about (and hopefully get them to join in on spreading it). Hiring a marketing agency or social media expert can help you develop and run these events; your company's own employees can even become involved, letting fans know that at least some of their favorites are just as excited about what you have going on as they are. Just remember: contests and promotions don't work unless you have set rules with clear follow-through. Make sure anyone who participates knows exactly what that looks like.
The Bottom Line
You should hire a social media expert . Yes, there are some fundamental things that you can do yourself, like share content and manage your page. However, to have an effective social media strategy, you need to be generating valuable content consistently. This is hard if you are trying to work on your business and stay up-to-date with social media trends. Hiring someone who has done it before can help you make sure that your Facebook, Twitter, and LinkedIn pages get attention from local customers. And new customers across digital platforms interact with your pages in a way that will grow your revenue from all angles - whether they're buying from you directly or not!
November 24, 2023
In the world of online advertising, the adage "less is more" often holds true, especially when it
November 17, 2023
With the ongoing expansion of digital marketing, search engine optimization (SEO) has emerged as
November 10, 2023
The largest online marketplace in the world for sales is Amazon.com. And it continues to expand.