How to Narrow Down the Best Digital Marketing Agency for Your Business
How to Narrow Down the Best Digital Marketing Agency for Your Business
Digital Marketing
|
October 4, 2023
Capturing the consumer's attention is truly a primary marketing objective, but the journey doesn't end here as launching your services on the internet and making it reach to the desired audience demands strategy and patience.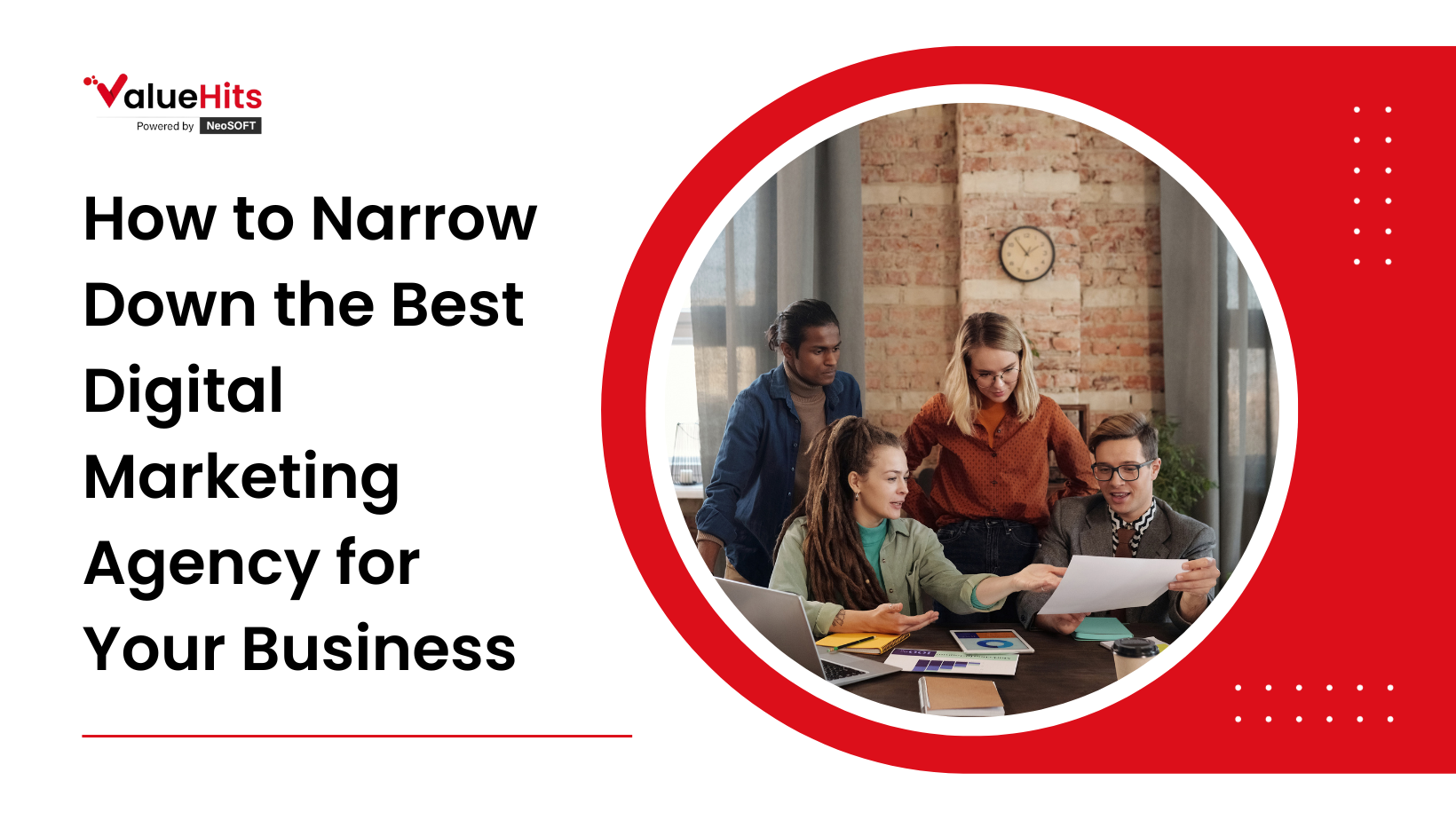 It is necessary to effectively harness consumer attention for boosting brand visibility and promoting business growth. While traditional (offline) marketing methods still have their place, integrating them with an effective digital marketing strategy can yield significant outcomes.
It is crucial to select the best digital marketing agency that can manage everything linked to Web design, SEO, SEM, hyperlocal marketing, etc., which are examples of inbound marketing. Outbound marketing includes search, email marketing, etc.
In this article, we'll guide you through finding a digital marketing firm to help you achieve your crucial digital marketing KPIs. (Key Performance Indicators).
Establish goals.
Online marketing is just like any other marketing strategy you use to promote your goods (or services). Online marketing has the primary benefit of being "more measurable." Before creating the budget, it's crucial to identify the objectives you hope to accomplish with this project.
Goals include boosting website views, increasing sales, conversions, etc. Your team could split them up into short-term and long-term objectives. For instance, creating a foolproof SEO (Search Engine Optimization) strategy could be a short-term (or ongoing) goal for raising your website's search engine ranking.
Establish a Budget
It would help if you established financial needs that will aid in achieving the chosen objectives. Specify the acceptable ROI based on the sum you spend on digital marketing.
Your company may already have a presence online, and you may be searching for a digital marketing business that can give it the "much-needed boost." The potential digital marketing agency must be highly knowledgeable about funnel marketing (TOFU, MOFU, and BOFU) to devote funds wisely toward expanding the appropriate funnel channels.
Not only that. Check to see whether the digital marketing agency has experience with B2B marketing if you are in the B2B industry (such as SaaS). B2B marketing and B2C marketing are two distinct approaches.
Combined Services
Setting the "expectations right" is crucial before searching for the ideal digital marketing agency. What specialist services do you require from the agency, and what should your clear answer be?
What do you mean by content distribution? Do you mean social media marketing? Do you mean social media optimization? Do you mean content generation—like blogs, case studies, etc.? Your team may require any (or all) of these services. You should select a digital marketing firm that focuses on offering a specific service or a boutique firm that can provide all web services under a single roof, depending on the requirements.
Hire a digital marketing company to handle the outsourcing so they can assist you in achieving all the crucial goals.
Expertise and credibility of the best digital marketing agency
These are the crucial factors to consider. In today's fast-paced world, credibility spreads rapidly, so you must ensure your chosen agency has the needed expertise.
For instance, if an agency promises to enhance its online presence, it should excel in that area. Check their web presence; consider looking elsewhere if it could be more impressive.
A promising sign of expertise is if the agency ranks well on Google, indicating their proficiency in SEO. Search for them using keywords like 'best digital marketing agencies in India' to evaluate their online performance.
Additionally, online reviews and recommendations from their clients are valuable indicators of a digital marketing agency's credibility. Established agencies often showcase their client list, reflecting their expertise and reliability.
Openness and a long-term perspective
A top-notch marketing agency values transparency and has a long-term vision. They believe in building solid relationships and are upfront about pricing, delivery timelines, and communication.
While it's tempting to go for agencies offering premium services at meager rates, this can often lead to a terrible experience. An excellent digital marketing agency will only promise premium services at a reasonable price.
However, it would help if you chose something other than an agency with excessive pricing. Evaluate their pricing concerning their services and conduct thorough online research to gauge their expertise and credibility. Genuine agencies follow a transparent pricing model with no hidden charges.
Check their social media reputation and comments on their posts. The best agencies prioritize building solid client connections and work tirelessly to create a lasting impression. They excel in website design, UI/UX, app development, content strategy, and social media management, making them the preferred choice for comprehensive digital marketing needs.
Conclusion
Irrespective of their size and scope of activities, businesses must have an online presence. This is where digital (or online) marketing becomes essential for enhancing your brand's visibility and reputation on the vast, evil internet.
It can be challenging to narrow down the best digital marketing agency because so many exist in India and worldwide. The suggestions or tips provided in this blog would be very beneficial in narrowing down the ideal agency that fits your needs and budget.
November 24, 2023
In the world of online advertising, the adage "less is more" often holds true, especially when it
November 17, 2023
With the ongoing expansion of digital marketing, search engine optimization (SEO) has emerged as
November 10, 2023
The largest online marketplace in the world for sales is Amazon.com. And it continues to expand.