SEO: Why You're Probably Overthinking It
SEO: Why You're Probably Overthinking It
Search engine optimisation (SEO) has become one of the most complex processes in marketing today, and many of us end up getting sucked into the mystery surrounding it. However, SEO isn't as complicated as you might think—in fact, it's quite straightforward. This piece will teach you why SEO shouldn't be as big of a deal as it seems and how to optimise your website for search engines with minimal hassle.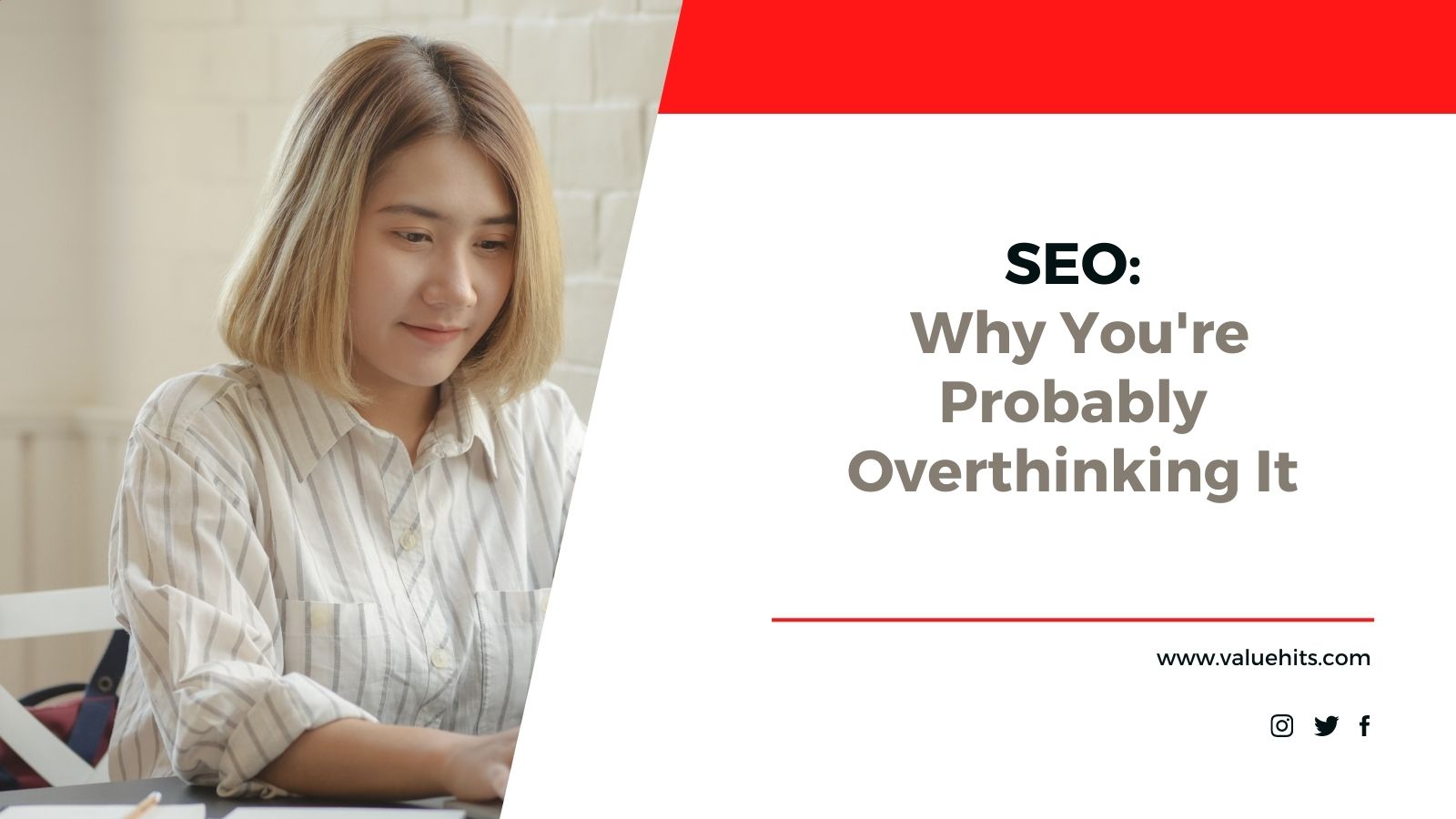 What Is SEO
SEO is a tool to help web pages rank well on search engines. Before hiring an SEO expert in India, consider if your business needs such services. Does your content have quality information that will help people? Is it written for humans and not just keywords? Are you considering every aspect of search engine optimisation? If so, then maybe hiring an SEO expert isn't necessary. However, if you ask questions like How do I get my website ranked at Google? or What is my website's ranking at Google?, then it might be time to hire someone to help with your SEO strategy.
Understanding Your Audience
When starting a new business, most people start with marketing and promotion before figuring out who their customers are. Before you commit to hiring anyone to do your SEO for you, make sure you understand who your audience is and what they want from you. First of all, write down what problem your business solves (this will be your elevator pitch), then think about how you might solve it differently than anyone else. This will help you narrow down your target market—and help an SEO expert create effective content as well.
Keyword Research
To hire SEO expert in India , you need to understand what keywords are. Keywords are basically a word or phrase that describes your product or service. So, for example, if I was building a website about how to program in Java, I would want to use keywords that people use when searching for how to program in Java. If I was creating a Facebook page for my new business, then I would want to know what people type into Facebook when they want my page (i.e., keyword). The simplest way of finding these is by searching for them on Google and seeing what comes up. Some of the tools that can assist you with your keyword research are SEMrush, SpyFu, and Ahrefs. These tools will help you find out which websites are ranking for certain keywords so that you can get ideas on where to start marketing your site/page.
Content Creation
Typically, when we talk to businesses who want help with their SEO and content marketing strategy, they tell me that they don't know what to write about or how to create a comprehensive content plan. In 2022 you can't just have a website full of product descriptions and call it good. As consumers become savvier (or at least more discriminating), we need well-researched, engaging articles from websites we trust—not canned text from a manufacturer's site. To succeed on your own terms as an online merchant, hire an SEO expert and follow their advice. A good SEO company like us at Valuehits will be able to guide you through effective content strategies for 2022 and beyond—and avoid common pitfalls like duplicate posts or keyword stuffing.
How Search Engines Work
One of your biggest SEO mistakes is probably to obsess over how search engines work and fret about whether you're doing everything right. The truth is, search engines haven't changed much in recent years—and only a few factors influence how well you rank in searches. In fact, almost every time we hear someone say they've been working on SEO, they really mean that they've been trying to optimise their website for specific keywords; we call it keyword stuffing. This might have worked a decade ago, but Google (and other search engines) are smarter now than ever.
What To Do Next
Hire an SEO Expert in India? While finding an expert or agency can seem daunting, particularly if you're new to SEO. However, Valuehits makes it easy for you. Don't let the complicated world of keywords and algorithms pulverise your brain; let our experts do their thing!
September 20, 2023
In today's digital age, having a strong presence on social media is crucial for businesses and pr
September 15, 2023
In the ever-evolving world of digital marketing, Search Engine Optimization (SEO) plays an import
September 13, 2023
PPC optimizations are essential to enhancing the effectiveness of your paid search advertising ca