These New Features from Google Will Help You with Your Business Sales
These New Features from Google Will Help You with Your Business Sales
Social Media Marketing
|
August 16, 2019
Google My Business isn't a new thing, and most of us are pretty familiar with it. But for those who aren't, here's what Google My Business can do:
Google My Business is a way to get your space on Google. It is a free and easy-to-use tool for businesses and organisations to manage their online presence across Google, including Search and Maps. It is the way to get your office address or storefront on Google. That way, when someone searches for your business, your business details, store address along with the products and services are displayed to your customer.
Google has been making changes to it continuously, making it easy to generate leads and sales for your business. There are several features that you, as a company, can leverage. Here are some of them that can help you generate easy leads and sales for your business through Google My Business:
1) Welcome offers: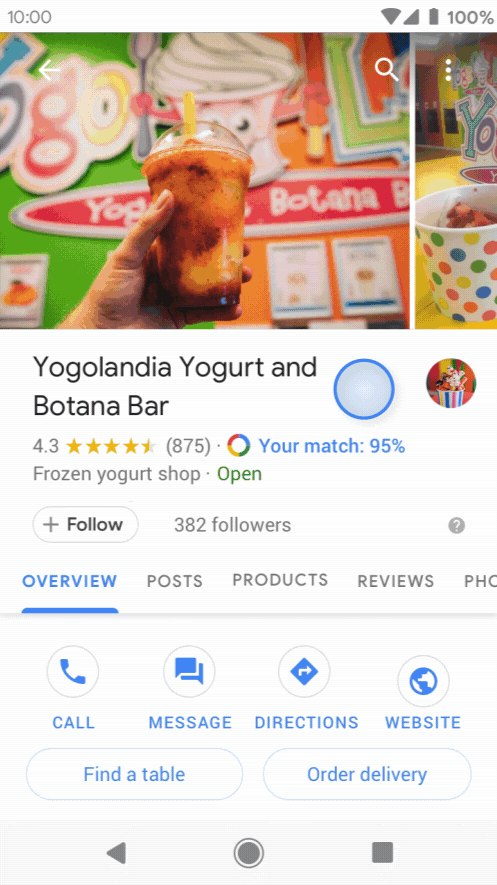 Who doesn't love discounts and offers!? Well, offering discounts and special offers have always been the easiest way to generate more sales. People are always looking for ways to save money and find deals online or offline. With the welcome offer feature, businesses can reward their new customers with exclusive deals, offers, and discounts. All they will have to do is to follow a couple of steps to unlock the deals. Customers can also follow your business online to keep in touch with the latest offers and deals. The best SEO Company will help you analyze such offers and help your customers become your prospective leads.
2) Easy Lead generation: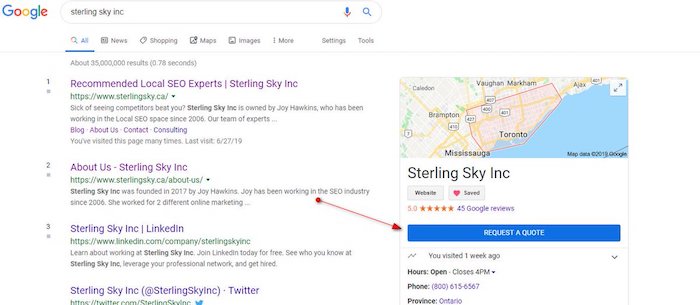 With a "Request a quote" button readily available on Google business listing, your prospects can contact you with ease. This quoting can be done through desktop as well as mobiles, making it platform independent to generate leads. You can also enable Google My Business's messaging feature, allowing the customers to get in touch with you without much hassle. With the messaging feature, your prospects will be able to ask for quotes relating to your products and services. You can connect with these customers after reviewing their quotes and messaging them through Google My Business.
3) Google Assistant: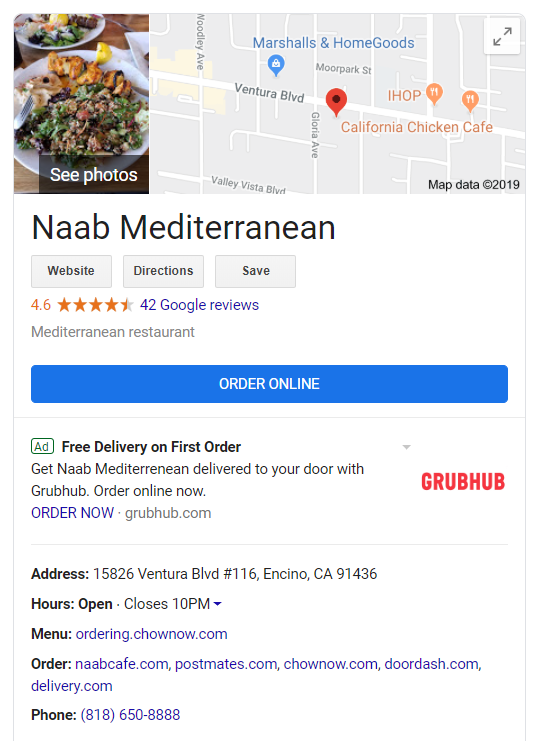 With Google Assistant, customers can order food from restaurants and stores, which is delivered through delivery partners. Users can click on Order Now from the listing and order food easily. Even payment happens through default payment on Google Pay, or users can add their card information if they do not have a Pay account.
With Google Assistant, customers can use voice commands to order food! Users can say, "Okay Google, order food from [restaurant]" and they'll get a list of orders which they had previously made from that restaurant. Leverage this opportunity to stay technically ahead through voice assistants.
4) Auto-generated posts based on reviews: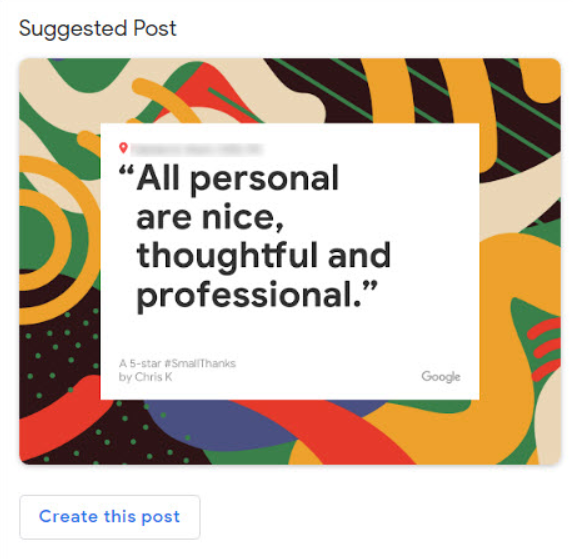 You need proper marketing posts to sell your business online. And for those posts, you need good quality content. You often won't have time to come up with such material as you'll be busy handling your business. Therefore, Google makes things easy by auto-generating these posts. These auto-generated posts are suggested through customer reviews on your Google My Business profile. These posts are highlighted reviews of your customers on social media. You can even print these and display them on your business walls.
These auto-generated posts come in handy to keep people engaged with your profile even if you haven't posted on Google My Business in a while. These posts are a fast and easy way of publishing content. It also gives you customisation options with different backgrounds and colours.
5) Create offline material easily: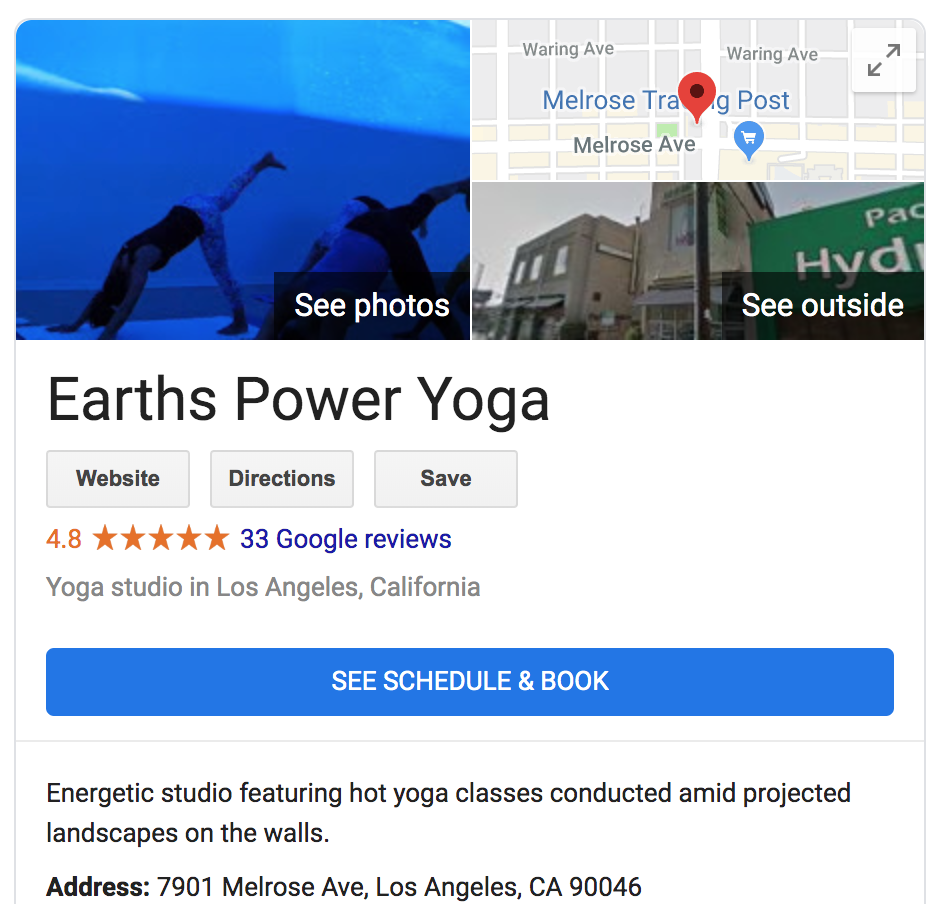 Google is coming up with a website where you get your business acquainted with marketing kits. This kit can include promotional items such as stickers and posters for business advertisements. This way, your customers can follow places on your profile, review it and even make bookings.
For posters, the editor can help create your customised banners that can be downloaded. These banners can later be printed out from a local printing place. If you aren't comfortable with posters, these marketing materials can be shared on social media too.
This is a free process currently, and the only cost involved is printing out the posters from a third person. If people can view your business at specific critical points in the city, chances are they will drop you a visit too!
If you aren't on Google My Business, you should check it out. Google makes it easier to generate leads and sales for your business quickly with their updated and feature-rich My Business. In the coming days, Google Assistant will be deeply integrated into Google My Business, that'll make optimising your business for voice searches crucial. So, leverage these features and updates from Google - it is cost-effective, and if you adapt quickly, you'll be ahead of your competition too! Top digital marketing companies in India will definitely suggest you to make the best of Google My Business
November 24, 2023
In the world of online advertising, the adage "less is more" often holds true, especially when it
November 17, 2023
With the ongoing expansion of digital marketing, search engine optimization (SEO) has emerged as
November 10, 2023
The largest online marketplace in the world for sales is Amazon.com. And it continues to expand.