Things To Ask An SEO Firm Before Hiring Them
Things To Ask An SEO Firm Before Hiring Them
One of the difficult part of owning an organization is the hiring. You must know what to ask and at the same time also know what answers to expect in return. This can be even tougher for you if you are going to hire an SEO firm, since SEO is new to many (may be you too) and is changing with time. What happens if you yourself don't have much knowledge about SEO? However, you are going to hire them for your website. Hence it becomes essential for you to have a list of questions to be asked to your SEO firm.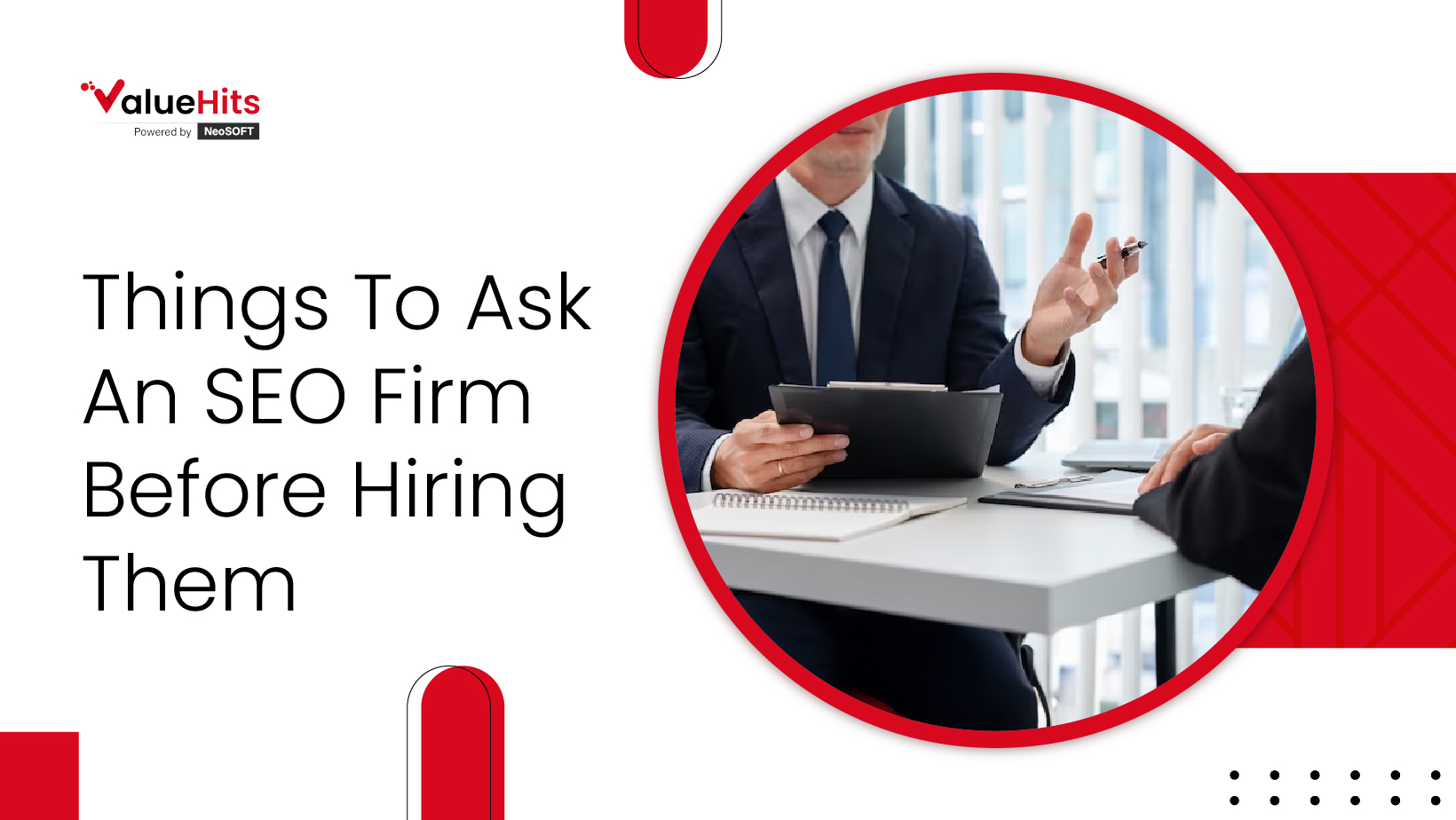 Irrespective of whether you are hiring a person for SEO in-house or even hiring an outside SEO firm, below are the few questions which clarifies your doubts with respect to the person or firm you are going to hire.
1. What will be your plan towards Search Engine Optimization? Among on-page and off-page, which will be your first priority and with whom you will begin?
Ans. On-page SEO deals with the quality of the website which indicates unique content, better navigation etc.; whereas off-page deals with obtaining link backs to your website from other trusted websites which helps in ranking on major search engines. On-page is definitely more important than off-page and any qualified firm, like Value Hits, will tell you that on-page SEO should come first. At Value Hits, we do discuss about our plans describing how we will execute our SEO services to your website. We will also explain you how we will proceed with off-page optimization for better ranking of your website.
2. When do you expect to see the results of your SEO efforts?
Ans. It is extremely difficult to determine the exact number of days require in order to see outcomes. Many a times it takes months for SEO campaigns to work and see the improvements in SERPs. Any SEO company can provide you a rough estimation or predict the time required, but no one can promise you anything. The same thing is applied when it comes to Value Hits.
3. How long have you been into the business?
Ans. Although this seems to be simple question, it is actually an important one which must be asked for sure. You surely don't want to handover your website to a firm which doesn't have enough experience and knowledge in the domain. All these greatly affects your website popularity and also future of your business. Our Value Hits company has been providing SEO services to our clients based worldwide since 1996. Our huge track record of delivering proven SEO campaigns have enabled us to provide 100% satisfaction to our customers throughout the project.
4. How do you define your success?
Ans. Do not hesitate in asking an SEO firm to show their success track record. Ask for the websites they have worked with and what their owners have to say about their work done. You can even ask for testimonials of others who had previously hired them or are currently working with them. You can also check out their SEO expertise.
5. Do you follow Search Engine guidelines?
Ans. The answer to this question is very much important. You surely be looking for a company that is perfectly suitable for your SEO requirement, and along with that should follow all the rules and regulations set forth by the Search Engines. It is simply waste of time and money in hiring a company which can ban your website from search engines. We, at Value Hits, do follow all the rules and regulations set forth by the major search engines and can guarantee you that your website will never get ban from any of the search engines.
November 24, 2023
In the world of online advertising, the adage "less is more" often holds true, especially when it
November 17, 2023
With the ongoing expansion of digital marketing, search engine optimization (SEO) has emerged as
November 10, 2023
The largest online marketplace in the world for sales is Amazon.com. And it continues to expand.