ValueHits's Quest Towards Success in the Digital Marketing Industry
ValueHits's Quest Towards Success in the Digital Marketing Industry
Digital Marketing
|
November 14, 2022
Each story of business success is distinct, with its ideas, developments, and victories in the world market. Here is an inspiring journey turning ordinary into extraordinary that carved success amongst tough contenders.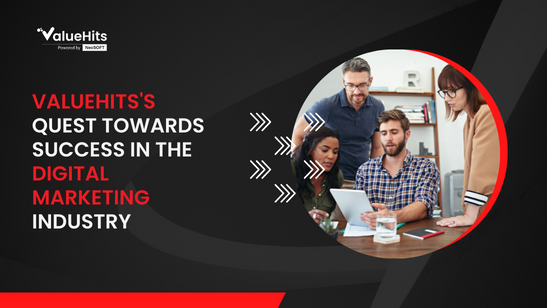 Inception
ValueHits, which was founded in 2009, is continually providing cutting-edge Internet and social media marketing solutions internationally.
Inbound marketing, content creation, social media management, and ad optimization are just a few of the digital marketing services offered by ValueHits, but the list of services and customised solutions goes on.
ValueHits began its journey with a single office in Mumbai and has since had a significant worldwide impact with its impressive presence across the world. Its global reach has now been extended to major countries, including the UK, the USA, and Australia.
The growth towards excellence
ValueHits entered the market with a vision and quickly dominated the digital space with clever performance that was result-driven, all backed up by a team of more than 100 talented individuals, striving tenaciously to become the most preferred business in the global digital marketing sector.
With the visionary leadership of Hardik Mody, the company has successfully delivered 600+ projects worldwide over a period of years. Under his mentorship, the team has shown the best results for each client and made the company one of India's most promising digital marketing agencies.
Achievements and praiseworthy mentions
The USP of ValueHits that sets it apart from the competition is that it uses a resource-based methodology. Now, after ten years of hard work, 2022 has brought true joy to the entire team, as it has been showered with honours on consecutive occasions.
Its distinctive ability was noticed and praised immensely. ValueHits was recognized as one of the 10 Most Promising Digital Marketing Agencies in India by The Global Hues Magazine in 2022 in recognition of its exceptional results-oriented initiatives. It also added another feather to its cap when insight success named ValueHits one of The Most Innovative SEO Companies in 2022.
Future Projections
The future objective of ValueHits is to emphasise incorporating AI and ML into the services to produce the greatest outcomes. AI is undoubtedly the way of the future, and this promising agency won't be overlooking it. Additionally, the agency intends to partner with businesses that are already active in AI-ML and retain more qualified personnel to deliver the best to the world market.
September 27, 2023
We looked at various data studies to determine when to post on Instagram, and the results are her
September 22, 2023
The importance of search engine optimization (SEO) cannot be overstated in today's digital landsc
September 20, 2023
In today's digital age, having a strong presence on social media is crucial for businesses and pr