Vital 11 Leadership Traits That Builds Action & Engagement
Vital 11 Leadership Traits That Builds Action & Engagement
Digital Marketing
|
August 12, 2022
Who comes to your mind when you think about the best boss you worked with? Have you ever thought about what made them so unique? Odds are, they might have an "X factor" that makes them stand out from the rest. This "X-factor" is the epitome of their Leadership Traits that inspired, encouraged, and empowered every individual around them. These are some leadership skills that make ordinary leaders exceptional.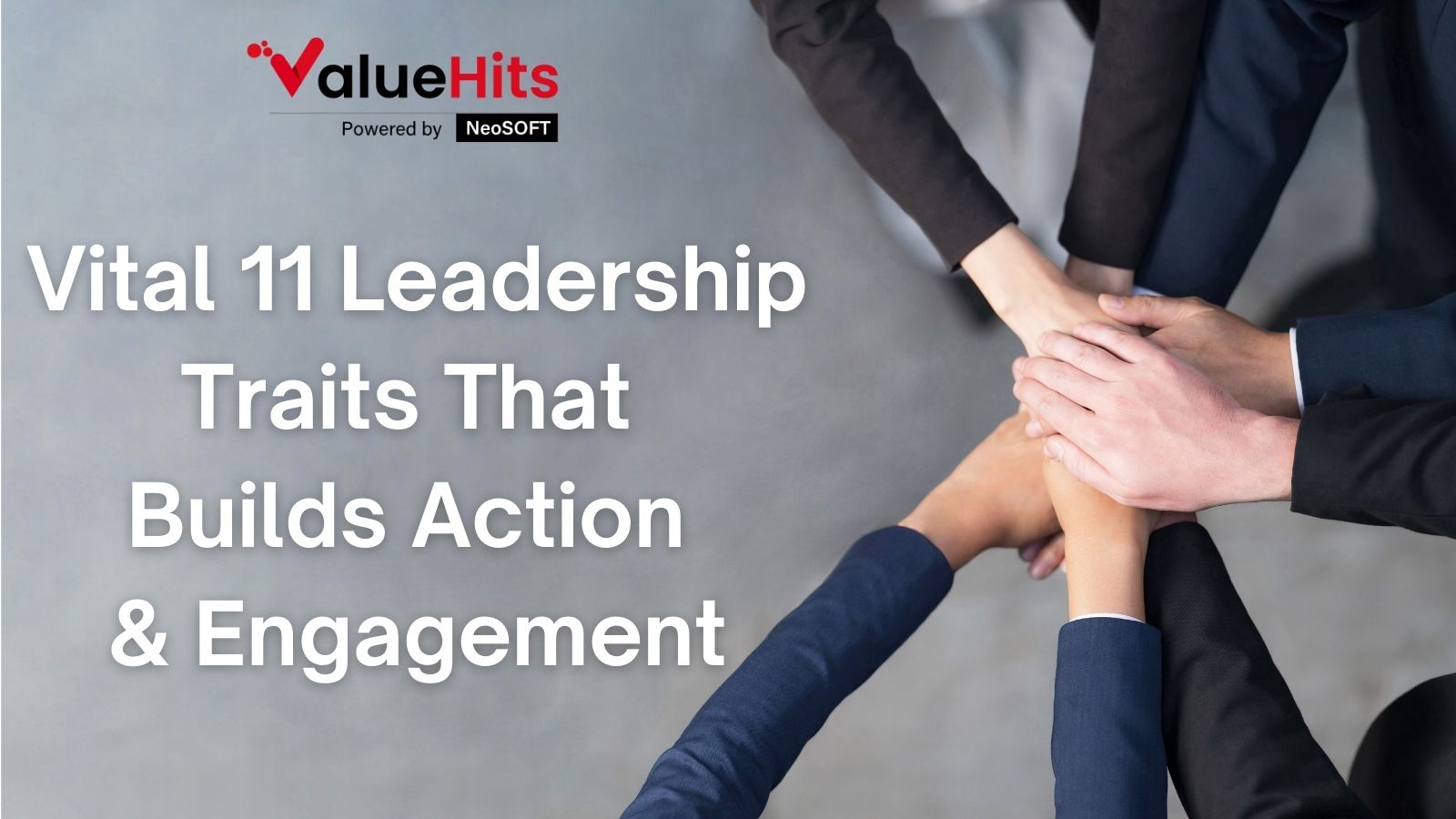 It may feel that some people are natural-born leaders, but anyone who is willing can learn, build, and strengthen leadership qualities with regular exercise. Let's discuss the effective VS ineffective leadership traits for improving these skills.
Leadership skills mould you in a way that helps you to interact with your colleagues and peers well. If you are successful enough to consistently execute these skills, you can find your way through any hardships. These skills will help you to inspire others for trusting your judgment.
The finest leadership skills revolve around true ethics, the ability to motivate people around you, and pledging for self-improvement. So, let's understand some vital skills you can instil for guiding others effectively. Here are the top 11 leadership traits to check while hiring dedicated resources for marketing.
Communication
As a leader, your ability always depends on how well you communicate, be it with your colleagues, seniors, or the people you lead. Even if you hold the best ideas, instincts, or intentions, they are of no use if you fail to communicate them well to your teammates.
To convey your ideas and messages, you need to speak clearly and honestly with the willingness to provide further explanation if required. Being an expert in communication is of the best ways to easily connect with people around you. Therefore, this skill tops the list, and as a leader, you need to develop it.
Values
In a similar manner to the point made earlier, while talking about values, we need to focus on the leader's goodwill and intentions. Best leaders have one more thing in common, which is conscience. They stick to certain standards and incorporate their values, which reflects in how they conduct themselves.
Integrity
Good leaders with good determination and honest intentions, and these all make a conscious effort for delivering on the set expectations they set for them. This makes up integrity, which is a combination of trust and commitment. These are the significant qualities of every leader.
Vision
The best leaders do not always wing any decision without working strategically on their goal. However, the best leaders are expected to make considerate decisions during immediate situations. They make sure to plan out the way that keeps them updated on how to conduct themselves and lead the teams.
Confidence
Your teammates are going to notice if you always keep second-guessing your call. Later, your teammates will not rely on your leadership skills as well as the calls that you take. Remember, confidence is key. You have to sow the seeds of trust in the heart of your team if you wish to be an effective leader. Remember, confidence comes from trusting yourself first.
Competence
This point is a little different than what we have discussed so far, this point is related to trust. People never trust someone who cannot complete their own responsibilities. Remember, you need to be exceptional in your work so that your teammates take you seriously. Never give your teammates a chance to doubt your decisions.
Passion
You will notice that the best leaders are very dedicated to what they do. They have a personal stake in their work and extreme interest in their own and team's success. If you want your team to work with complete ability, you have to show them you are doing the same thing.
Curiosity
The best leaders are never satisfied with the knowledge they already hold. They always keep learning something new because they are open to new opportunities and challenges. They keep asking questions and keenly listen to all the responses they receive. Therefore, if you are willing to be an efficient leader, you need to stay open-minded and polish your skills.
Never discriminate when it comes to learning something new. Real curiosity is having a desire to field ideas and knowledge from your seniors to your teammates and further colleagues.
Positivity
Remember to attain maximum productivity you should have a positive attitude. Most people are efficient at what they love to do. Always encouraging positivity brings the best output from the people around you. Make sure to set an example driving yourself with optimism as long as you can.
Empowerment
In several ways, being a good leader is a process of inspiring the people you work with. This is how the teams come together for achieving common objectives. The best leaders are those who take action after identifying the milestones. They never pamper the teammates they lead, but they also nor under-appreciate them.
Empathy
The best leaders are ready to consider every teammate's perspectives and allow them to share thoughts and suggestions. Approaching those views and situations with complete empathy and politeness is essential. You should be able to place yourself in others' shoes as it helps for trust building with your colleagues.
Bad Leadership Traits
> Arrogance
Though confidence is a significant factor for effective leadership; however, there is some limit to it. At a point, being very hard-headed can lead to frustration rather than inspiration. The best leaders are aware of how to balance this line, they trust their faith to bring the best from their teammates.
> Indifference
The following apathy is very dangerous as a leader, it demoralizes your skill to stay focused, inspire your team, and get the most out of your teammates. If your team members notice you being unbothered, this will make them careless as well.
> Lack of Accountability
Best leaders are those who know and acknowledge their mistakes and weaknesses. They never shrug off their responsibilities of problems they need to resolve. The best leaders are those who acknowledge their faults and keep working hard for improving.
> Unwillingness to Learn
The best leads always treat any phase as a learning experience no matter how the outcome is. Each misstep is seen as a learning opportunity for growth. Therefore, if you wish to be an influential leader, you must understand this.
Carefully reflect on your success and failures. Try to rectify what you do wrong. Try to improve yourself with every mistake that you make, do not get satisfied with any situation.
> Conflict Avoidance
Generation of conflicts is common and very natural. It is vital to manage a conflict correctly. Effective leads are those who understand this and embrace the discomfort that is generated. They resolve the issues kindly and treat such conflicts as a challenge for growth.
How to Develop Effective Leadership Traits
> Learn about yourself
Becoming a great leader begins with knowing who you are; understanding your strengths and weaknesses. Be very honest, and entertain others' opinions. It is very essential for being a good leader. Understanding objectives comes from your teammates.
You can take many assessments that you can take; these assessments will help you to evaluate yourself. When you have to use a skill in the assessment, you may find all this information useful as it is more than just self-examination.
Here are some extraordinary assessments; take a look at these:
Personality assessments (MBTI, Fascination Advantage)
Talents and abilities (Highlands Abilities Battery)
Influence potential (Keller Influence Indicator)
Leadership style, traits, etc. (360º Assessments, Maxwell Leadership Assessment, Blanchard Frontline Leadership)
> Commit to Growth
Once you are done and dusted with the self-examination and assuming that you have learned about yourself, it is time to plan. Stick to your commitment, as Yoda said, "Do or not do. There is no try."
> Practice, Stand Accountable, and Be Generous
You are responsible for all the results of your leadership. Because you cannot blame others for your messes, you should not question this. Refining skills and inculcating these new behaviors needs time, practice, and grit.
No matter if you flourish or fail, be kind to people around you. Keep them inspired and encourage them. However, never toss out your bonuses.
All this is about the spirit of generosity, often praising others for your victories and taking responsibility for your mistakes; you will have numerous supporters.
Remember, when you are honest and sincere with your actions, there is no need to be ashamed or defensive about anything. Being vulnerable at times can set a big example for people around you.
> Don't Go It Alone
You must be aware of the old saying, "It's lonely at the top," it is true in most cases. We have a tendency to isolate ourselves by fearing to trust others for telling us the truth or the need to be seen as strong, controlling, and perfect all the time.
If you wish you can trust this route — or you can enroll people you trust in your journey. For instance:
> Hire an executive coach who can offer an objective perspective. He will work with you to develop this ability.
> You and your team of peers could have the same visions and plans. Combine those with an executive coach for better support.
> Implore your followers to help you hold them responsible if you make any mistakes, violate the boundaries of other people, or do not work as per the set standards.
What Is My Leadership Philosophy?
You can find several philosophies regarding leadership. You can get nearly 3 million answers with one click on Google in no time. All this means that if you are in search of developing a leadership philosophy, you have numerous information, but how to know which one is the best? Which philosophy will be crucial for your company?
You have the answer - We don't.
You are the one who will know best which philosophy suits your values. Something that workout for your teammates may not suit you. You have to think deeply, perform research, and practice till you get the perfect combination.
You can think of it in this way when you develop a plan for a client, you keep juggling the specific plans and strategies to get the best results. This approach is different for each client, organisation, and goal. You plan to achieve the goal one way, but while working you keep changing the strategies on the go.
Being a leader is nothing different from this. As you go deep into this topic, you will understand that there are several strategies, abilities, and methodologies that you need to combine in whatever way that is suitable for achieving your goals.
Make the Choice
The foremost step to evolving into an effective leader starts with knowing yourself, right from good and adorable things to the things that make you flinch.
However, the best thing is you can change and grow by building good leadership qualities; the tougher your commitments and the way you courageously work during difficult times, the greater the chance to become the best leader.
These are some important qualities of a good Leader that you must look for while hiring a dedicated resource from a digital marketing agency .
September 20, 2023
In today's digital age, having a strong presence on social media is crucial for businesses and pr
September 15, 2023
In the ever-evolving world of digital marketing, Search Engine Optimization (SEO) plays an import
September 13, 2023
PPC optimizations are essential to enhancing the effectiveness of your paid search advertising ca