What Exactly Is a White Label Agency, and How Does It Operate?
What Exactly Is a White Label Agency, and How Does It Operate?
White Label Marketing
|
October 13, 2023
White-label collaborations have fueled growth for agencies and businesses directly serving customers in the ever-evolving business world.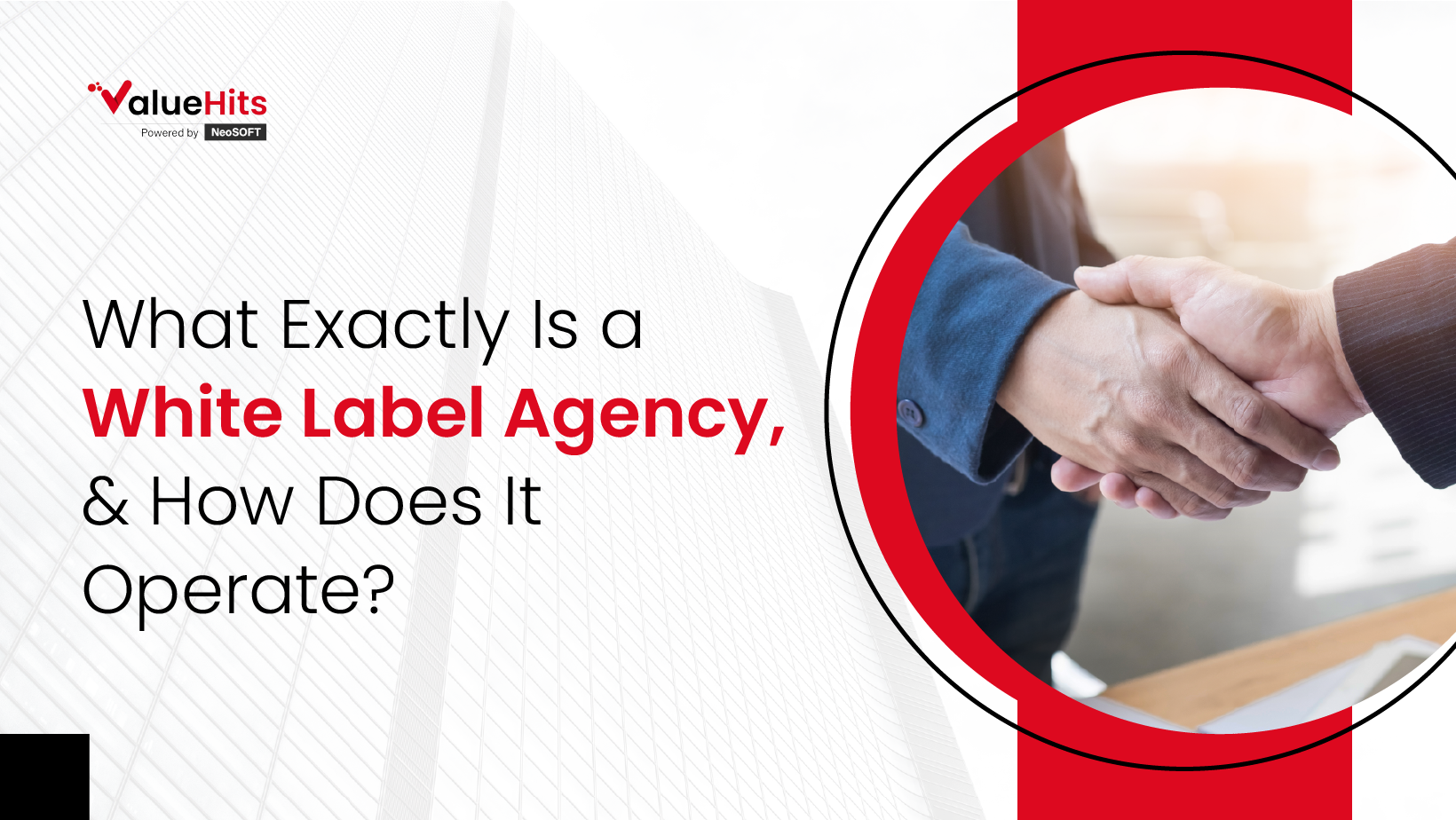 In particular, the phrase "white label" has grown significantly in use regarding digital marketing. In a strategic alliance, an agency works with a partner business to provide services under the agencys brand. With this arrangement, organizations can offer more services and meet broader client needs.
However, it is essential to consider many aspects that contribute to fruitful cooperation before beginning a white-label partnership.
Lets first examine the definition and operation of a white-label agency.
A White-Label Agency: What Is It?

A white-label marketing agency is a business that provides products or services to other companies, which those companies can subsequently rebrand and market under their names. The phrase "white label" refers to applying a manufacturers label to an item so the buyer may sell it under their brand.

Web design, digital marketing, software development, and graphic design are some examples of the services or industries in which white-label businesses often specialize. They have a group of professionals on staff that offer top-notch services that may be altered and rebranded to meet the customers demands.

Here is How a White-Label Agency Operates Collaboration

The customer/ company and the white-label agency become partners through a contract or other agreement. The agency becomes an extension of the clients staff by providing services in the background.

Rebranding

The client rebrands the white-label agencys services under their name. This entails customizing the deliverables with their branding, logos, and business details.

Customer Communication

The client engages in direct customer communication while posing as the service provider. The white-label agency is kept under wraps, managing all client communications, sales, and support.

Service Provision

The white-label marketing agency carries out the clients services. They use their resources and experience to produce high-calibre work that meets the clients requirements.

Confidentiality

White-label marketing agencies do their business in complete secrecy. They do not acknowledge their collaboration with the client or give themselves credit for the task done. This enables the client to preserve their brands reputation and cultivate customer trust.

Advantages of White-Label Agency Alliances

White-label alliances assist both SMEs and big companies in a variety of ways. Here are a few examples:

Additional Service Offerings

Diversification: Working with white-label providers enables SMEs and big companies to expand their service offerings without investing heavily in R&D.
Time and money savings: By utilizing pre-existing white-label solutions, businesses can avoid spending the time and resources necessary to create new goods or services from scratch.
Market Adaptability: White-label collaborations allow companies to quickly add new products to their portfolio in response to shifting market demands.

Enhanced Customization and Branding

Brand Consistency: By rebranding white-label solutions under their name and using their brand components, white-label collaborations enable businesses to maintain brand consistency.
Flexibility in Customization: White-label solutions frequently provide customizable choices, enabling firms to customize the goods or services to their particular needs and target market.

Efficiency in Operations and Scalability

Scalable Growth: White-label alliances enable companies to quickly scale their operations as they grow their clientele or enter new markets.
Resource Optimization: By working with white-label providers, organizations may focus on their core skills and rely on partners to supply specialized services, optimizing resource use.

Operations are simplified thanks to the seamless integration of white-label solutions into current systems and procedures, streamlining processes and lessening in-house developments complexity.

Access to Resources and Expertise

Industry Knowledge: White-label partners frequently have in-depth knowledge and skills in their specialized sectors, enabling firms to draw on their resources and provide high-quality solutions.
Technical Support: White-label suppliers give technical maintenance and support for their products, guaranteeing that organizations may get ongoing help and upgrades.
Market Insights: Working with white-label partners can offer companies insightful market information to help them keep ahead of market trends and make wise decisions.

How Can YouI Pick the Best White-Label Agency?

Selecting the ideal white-label agency is essential to your companys success. Before entering into a white-label collaboration, you should take into account the following essential factors:

Knowledge and Excellence

Analyze the white-label providers expertise and performance. Find a partner who has a history of providing high-quality goods or services in your sector. To be sure they can live up to your expectations and deliver the appropriate quality, consider their experience, portfolio, and client testimonials.

Coordinating and Compatibility

Make sure the white-label partners offers are consistent with the aims and principles of your company. Find a partner who shares your goals and thoroughly knows your target market. The work culture, communication style, and strategic approach must be compatible to create a fruitful long-term collaboration.

Flexibility and Scalability

Think about the white-label partners flexibility and scalability. You might need more capacity or services as your business expands. Ensure the partner has the tools and ability to expand operations as needed. Additionally, determine if they are adaptable enough to meet your changing needs and offer specialized solutions.

Security and discretion

In white-label relationships, confidentiality is essential. Ensure the partner has adequate security measures to safeguard your sensitive data and client information. Look for accreditations or compliance guidelines that attest to their data privacy and security dedication.

Collaboration and Assistance

An effective white-label relationship requires effective communication. Analyze the partners availability, response, and communication channels. Please take a look at their technical and problem-solving customer support talents. A trustworthy and responsive partner ensures smooth communication and on-time service delivery.

Pricing and Success

Recognize the profit-sharing plan and pricing structure with the white-label partner. Examine the pricing to see if it fits your budget and the value offered. Make sure the collaboration is a win-win situation by assessing its potential profitability.

Essential Elements of the White-Label Agency Partnership Agreement

A thorough partnership agreement must be in place before beginning white-label cooperation to safeguard both parties interests. You should include the following in your white-label partnership agreement:

Define the precise deliverables, deadlines, and restrictions or exclusions that will be included in the white-label partners scope of services.

Branding and Intellectual Property: Describe how the white-label partner will use your brand name, logo, and other intellectual property rights. Specify any branding limits or standards and ensure your intellectual property is protected.
Quality Control: Establish quality control procedures to ensure the white-label partner delivers goods or services that meet your predetermined criteria. Specify how quality checks, feedback channels, and performance measures will be implemented regularly.
Confidentiality and Non-Disclosure: Include confidentiality and non-disclosure agreements to safeguard sensitive corporate information. Specify precisely what each party must do to keep proprietary information and trade secrets confidential.
Pricing and terms of payment: Set the price range for the white-label services, taking into account any up-front expenses, ongoing charges, or revenue-sharing agreements. Define the payment terms, including late payment fines, schedules, and methods.
Disputation resolution and termination: Establish the terms of the partnership agreements termination, such as notification requirements and justifications. Include dispute resolution clauses, such as arbitration or mediation, in your contract.
Rights and Obligations: Clearly state each partys obligations and rights, including exclusivity or non-compete clauses. Define the responsibilities for continuous maintenance, technical support, and customer service.
Term and Extension: Indicate the partnership agreements original duration and any provisions for extension or renewal. Describe how the contract will be reviewed and updated as necessary.

Select a Reputable White-Label Agency

White-label alliances help SMEs and big companies improve branding, diversify their service offerings, and streamline operations. Companies can find new development prospects and provide excellent solutions to their clients by working with the ideal white-label partner.

We can assist you if you are prepared to benefit from white-label services. To discuss how our knowledge and experience can help your company, contact us immediately. Let us be your dependable white-label partner for providing Business solutions suited to your clients requirements.
November 24, 2023
In the world of online advertising, the adage "less is more" often holds true, especially when it
November 17, 2023
With the ongoing expansion of digital marketing, search engine optimization (SEO) has emerged as
November 10, 2023
The largest online marketplace in the world for sales is Amazon.com. And it continues to expand.