What things you should look for in SEO Companies before hiring?
What things you should look for in SEO Companies before hiring?
If you are thinking about employing an SEO business, you will quickly find there are a lot of possibilities. However, before you make a hurried decision, you need to thoroughly analyse your possibilities.
SEO is an ever-changing strategy since search engines constantly improve their algorithms to provide an improved user experience. You are busy operating your business and may not have time to worry about organic traffic, keyword research, and search results.
That is where an experienced SEO business with SEO specialists can assist. The process need not be difficult. You just need to know what to search for to locate the best firm for your specific brand.
Here are 6 reasons to consider before hiring an SEO company.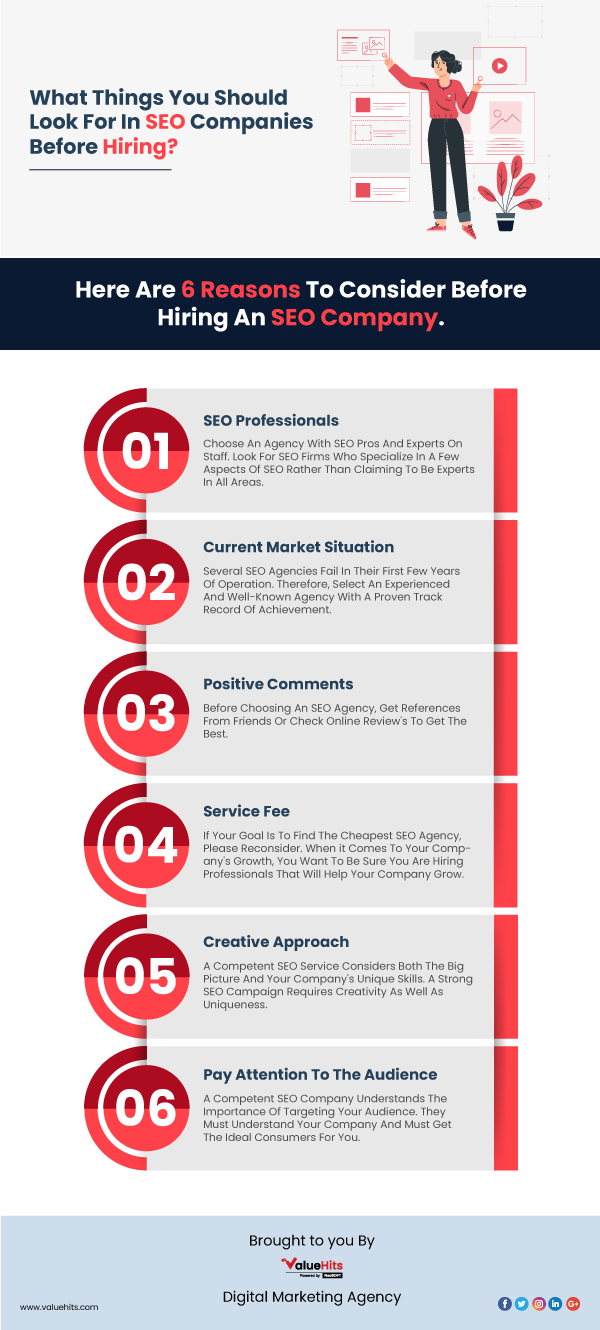 SEO Professionals
You should select a firm that has staff who specialize in search engine optimization, i.e. SEO professionals and experts. Look for one of the SEO companies that concentrate on mastering a few parts of SEO rather than claiming to be an expert in various aspects
For the SEO Services that you choose, you can check their prior SEO efforts and SEO approaches to get a sense of their service and ability. They should have a track record of generating organic search traffic and SERP ranks for their clients. Make sure you avoid firms that make misleading or exaggerated promises about their track record of accomplishment.
Current Market Situation
Every company need a decent reputation in the market, but an SEO firm should have an extraordinary one. They are responsible for delivering outcomes and protecting their customers' reputations.
Many SEO Companies fail during the first few years of their business. Choose an experienced and well-reputed agency with a demonstrated track record of success in the sector and a grasp of how to operate following customized marketing.
Positive Comments
Check for references from friends and other SEO services/owners before hiring an SEO provider. Take the time to read internet reviews.
An established company should have a large number of reviews over some time. Avoid firms that have a deluge of favourable ratings in a short period. A well-reputed company must at least have a 4.5-star rating overall.
Service Fee
Please rethink if your objective is to discover the cheapest SEO agency in the area. That is never a good idea.
When it comes to the success of your business, you want to be sure you are employing pros that will make your business not break it. A one-size-fits-all package concept dissolves the distinctiveness of your business.
Sign up for a firm that will give you better and more distinctive marketing solutions.
An SEO expert may assist you in increasing brand recognition, developing content, and driving traffic to your website. Some companies, but not all, can provide business advice in addition to SEO services. A superb SEO agency is one whose business goals are similar to yours.
Creative Approach
A good SEO service looks at the overall picture as well as your brand's specific capabilities. A great SEO campaign needs innovation, understanding, and originality.
Be aware of SEO experts who specialize primarily in link development or one component of SEO. Choose another SEO company if they do not address topics like load time, page speed, on-page optimization, content marketing, site design, and a delightful user experience.
Pay Attention to the Audience
A professional SEO Company knows the significance of targeting your audience. They must comprehend your firm, your product or service, and the ideal consumer you intend to target.
Before an SEO professional can implement the best plan for your company, you must be able to express this message and explain your goals. Whether you want to attract locals or a worldwide clientele, the ideal SEO firm must understand who your target audience is and where to find them.
Here we end the list of factors to check in an SEO company before you sign up for their services. Ensure you do thorough research to drive the best results for your business.
September 20, 2023
In today's digital age, having a strong presence on social media is crucial for businesses and pr
September 15, 2023
In the ever-evolving world of digital marketing, Search Engine Optimization (SEO) plays an import
September 13, 2023
PPC optimizations are essential to enhancing the effectiveness of your paid search advertising ca