6 Ideas for Creating Engaging Social Media Content
6 Ideas for Creating Engaging Social Media Content
Social Media Marketing
|
July 1, 2022
Social media is a valuable tool for connecting with your audience. So, here are the 6 ideas for creating engaging social media content that will improve your overall marketing strategy.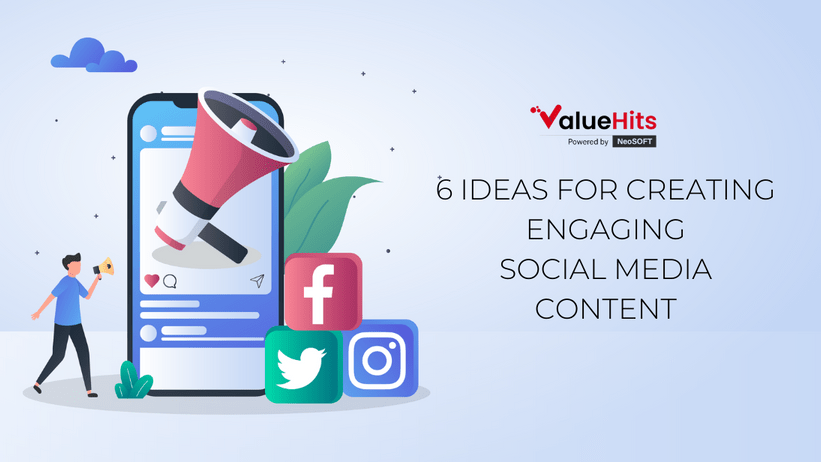 This online marketing strategy is most preferred by all social media agencies. Getting your content to stand out on social media can be difficult if you don't know what you're doing or how to do it correctly. Whether you're new to social media or need fresh ideas, these content types will help you make your posts more appealing and engaging to your audience, whether they live across the street or the globe.
Questions
Questioning is one of your most powerful communication tools, and social media is no exception. Ask people to do things, and you'll command their attention. Just be sure you can support whatever request or question with a strong call-to-action (CTA). Start by asking followers about the benefits they would like to see from your product. Follow up by providing them with CTA about how to provide that benefit, if applicable. You could also ask them what their favorite feature of your product is and offer them a CTA about why they should share that post! What will this lead to? Greater engagement on your posts and more opportunities for conversion.
Infographics
When it comes to content marketing, infographics are still one of your most potent weapons. It can be a quick and cost-effective way to generate interest in your business, gain backlinks and drive new traffic to your website. And many platforms make it easy for anyone to create beautiful graphics and publish them directly to their website, including Canva and Visme. We hope this list will help you generate some ideas for the type of content you need on social media. The key is finding the best work for your audience, but this should get you started!
Guest Posts
Write a guest post on another blogger's site. This could be a fellow content marketer or someone who writes in your niche and has an established readership. The point of guest posting is to engage with another community of readers. Ask questions in your post, leaving room for them to respond and interact with you. Guest posts also allow you to reach new people, potential clients, and employers. If you are the one being approached by a blogger about writing a guest post, make sure that they are relevant to your audience and send over any important links so they can write something complimentary.
Statistics
By creating visual content that ties into a topic relevant to your business, you can start conversations with potential customers and keep them interested in what you have to say. you can also try showing some relevant industry data stats, attracting more shares and retweets. Twitter, Facebook, and Pinterest are three of businesses' most popular social media platforms. While your options may be more limited on Snapchat and Instagram, you can still use them to your advantage.
Polls
If you want to gather your audience's input, why not turn to social media? Polls are a fantastic way to do just that. You can create polls in just about any form and shape on social media channels such as Facebook, Twitter, or LinkedIn. By asking your followers questions, you'll be able to understand better what they care about and be able to engage with them more on the topic of their choice. Asking people what they think is also an excellent way to get feedback on new products, marketing strategies, and other ideas related to your business.
Quotes
Each day we have an opportunity to be creative and create unique pieces of content that truly resonate with our customers and potential customers. We all have our own stories to tell—we just need to find a way to share them with our audience without sounding contrived or pushy. Including inspirational or motivational quotes in your blog posts is informative and can inspire readers to go out and make changes in their lives too!
Conclusion
Remember that writing on behalf of your own business is different from writing on behalf of someone else's. You can and should write about personal things, but remember what you want to get out of your posts. And remember, it's not always about you! Writing about other people, events or trends can be a great way to connect with your audience, gain their trust and establish credibility as an expert in your field. If needed, you can always speak with a social media agency for assistance! Happy posting!
September 20, 2023
In today's digital age, having a strong presence on social media is crucial for businesses and pr
September 15, 2023
In the ever-evolving world of digital marketing, Search Engine Optimization (SEO) plays an import
September 13, 2023
PPC optimizations are essential to enhancing the effectiveness of your paid search advertising ca