Drip Email Campaign: What Is It? Advantages, and How to Run?
Drip Email Campaign: What Is It? Advantages, and How to Run?
Email Marketing
|
August 18, 2023
Email marketing will always be a crucial component of any marketing strategy, regardless of whether you are a start-up or an established company. Successful email marketing is crucial to moving prospects through the many stages of your conversion funnel—from prospects to leads, marketing-qualified leads, sales-qualified leads, and ultimately paying customers.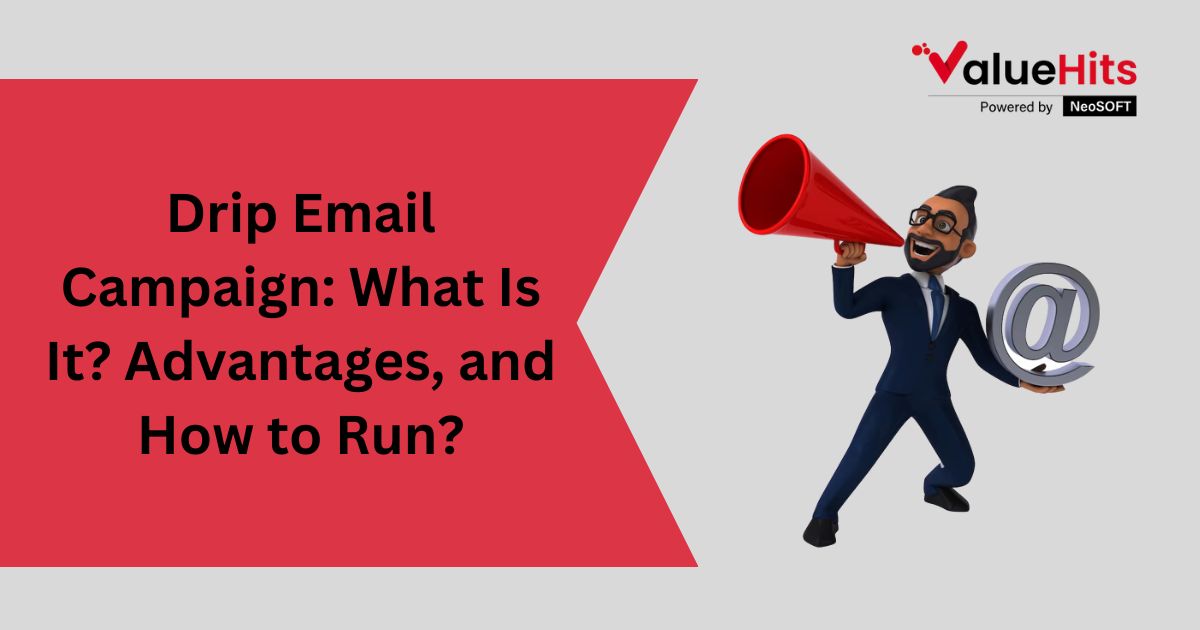 Email continues to be the third most effective information source for B2B audiences, after peer recommendations and sector-specific opinion leaders. Nearly 59 percent of B2B marketers cite email as their most effective medium for generating sales.
Emails are, without a doubt, the most effective marketing channel for focusing attention on customer acquisition. In actuality, WordStream estimates that for every $1 invested in email marketing, you would receive a return of $44. More than 89 percent of marketers claim email is their main tool for generating leads.
It may be very overwhelming for a beginner to set up drip email campaigns, so in this article, I'll explain what drip marketing is, why it works, and how you can use it to connect with both engaged and disengaged consumers. Let's get right to the specifics!
What Exactly Is a Drip Email Campaign?
A lifecycle or automated email campaign, often known as an email drip campaign, is a marketing strategy that automates the delivery of emails at specific stages of the consumer's lifetime. For instance, a business running a drip campaign might send a welcome email right away after a subscriber signs up, a follow-up email two weeks later, and ultimately a "we miss you" email one month later.
What advantages can email drip campaigns offer?
Let's start with one example: welcome emails, to better understand the advantages of email drip campaigns. The open rate for welcome emails is between 46% and 53%, which is 2-3 times higher than the typical open rate of 15-25%, according to the Experian White Paper (PDF). However, welcome emails that are sent right away have an open rate of 88%, which is 3-5 times greater than the standard open rate.
You wouldn't be able to benefit from this high open rate without an email drip. And if automation weren't available, you'd be forced to send out mass welcome emails on a daily, weekly, or monthly basis. In addition to taking more time, it is also less efficient.
How to Manage a Drip Email Campaign?
Here are the steps you may follow to build your own drip email campaign if the advantages sound intriguing to you:
Step 1: Establish a Goal
The campaign will be a waste of time if there is no clear aim in mind. Assess your performance right away and decide where you want to make growth. Are too many leads abandoning their carts, for instance? Would you prefer greater involvement?
Step two: Segment your list.
Email drip campaigns work because businesses can group subscribers based on shared activities and deliver emails to only the most interested people, which is the essence of list segmentation. Knowing what types of activities, you are aiming for can help you segment your leads appropriately and build a successful campaign.
Think about your goal and decide what kind of steps you should prioritize to attain it.
Step 3: Choose the best postal marketing instrument.
You'll need the appropriate email tool if you want to conduct successful drip email campaigns. There are several email marketing platforms available, and nearly all of them offer automation features.
Step 4: Draft your email copy and make a plan.
The identical email sequence is used across all customers in drip email campaigns. Therefore, you must first create a large number of effective emails that you may send to your customers at various stages of their buying cycles.
At this point, you might wish to enlist the help of a professional because a talented copywriter will significantly boost your ROI.
Step 5: Run your campaign and get better along the way.
It's time to let the campaign release its power once everything is in place. However, your work is far from done at this point; you still need to monitor its effectiveness and make adjustments in light of the results you will obtain along the route. If your campaign has a set end date, you should evaluate its effectiveness and use the results to improve the following one.
Bottom line
Wrapping it up! I trust you've gained valuable insights about drip email marketing campaigns through this article. If you're seeking to harness the power of these strategies, consider enlisting the expertise of an Email Marketing Service.
Their guidance can make all the difference, and partnering with a skilled email marketing agency like ours can amplify your success even further. Don't hesitate to explore the wide spectrum of possibilities that email marketing services agencies offer. Happy marketing!
September 20, 2023
In today's digital age, having a strong presence on social media is crucial for businesses and pr
September 15, 2023
In the ever-evolving world of digital marketing, Search Engine Optimization (SEO) plays an import
September 13, 2023
PPC optimizations are essential to enhancing the effectiveness of your paid search advertising ca