Explore PPC's 6 Methods for Boosting Search Campaign Performance
Explore PPC's 6 Methods for Boosting Search Campaign Performance
PPC optimizations are essential to enhancing the effectiveness of your paid search advertising campaigns, especially when you're seeking a PPC expert in India.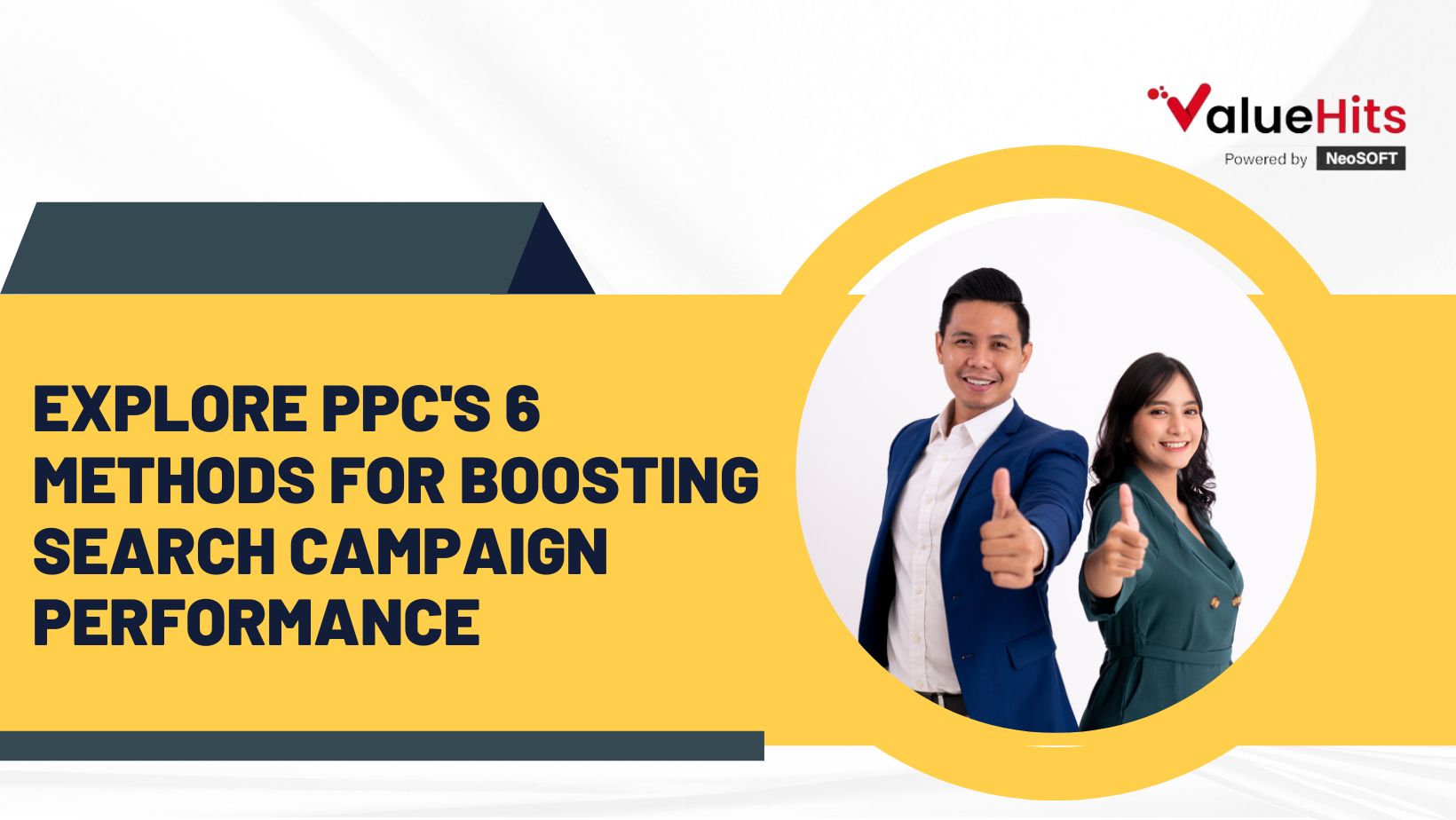 Let's start by defining PPC optimization.
What precisely is optimization before we discuss our top suggestions?
Optimizations start when campaigns are set up, operating, and gathering data.
The process of examining, assessing, and changing campaign components to improve performance following corporate objectives is known as pay-per-click (PPC) optimization.
PPC (Pay-Per-Click) optimization is an extensive field within digital marketing that includes a wide range of strategies and approaches. In this discussion, our attention will be directed towards one of the most widely used PPC campaigns, which is the Search Campaign.
Let's explore some suggestions for improving Search Campaign Performance to get you started or generate fresh concepts.
Keywords
Keyword advertising in search results is driven by keywords, which also assist searchers in finding the most pertinent advertising.
Experts know the search queries frequently don't match the account's keywords.
The keyword match type comes into play here.
The most relevant ad-serving method is an exact match; however, it is also the most restrictive and can miss some possibilities.
On the opposite end of the spectrum, broad match offers the most flexibility in keyword matching but may result in adverts displayed in connection with unrelated queries.
Several metrics that measure the effectiveness of keywords are listed below:
Click-through rate
Also known as CTR. Brand terms typically have a substantially higher CTR of 3% or more. Less than that indicates that the user does not find the advertisement relevant and does not click.
Conversions
To determine whether the new keywords are too broad or too specific, compare past conversion data to the new keywords.
Interactions, time spent on the site, and website metrics
If visitors are not interacting with the site as you would anticipate, this may also be a sign that the keywords need to be optimized.
Negative Keywords and Search Terms
In PPC optimization, preventing irrelevant or navigational searches from triggering your ads is crucial. This can be achieved through a robust negative keyword strategy. Here's how I approach negative keywords:
Proactive Negative Keywords
Create keyword lists focused on specific topics like parts and accessories, job searching, goods and services you don't offer, and the names of rival companies you don't want to appear for. For example, if your business provides employee access to your website, you can add negative keywords related to employee login searches to avoid spending the PPC budget on such queries.
Finances
Nearly every day, people question me about PPC budget plans, and for good reason! Finding the ideal total investment and campaign allocation for PPC advertisements requires talent; managing a budget is an art. When you're looking to optimize your PPC budget effectively, you might want to consider hire a PPC expert in India who can provide valuable insights.
Technically, the budgets are set at the campaign level for a daily budget & Lifetime Budget. The actual expenditure may be under or over the daily budget. Still, it will not exceed the daily budget multiplied by 30.4 days a month because Google will display the advertisements to achieve the best results. As a result, checks are in place to ensure the automation functions for you while maintaining an eye on spending.
Responsive Search Ads (RSAs)
RSAs, the most common ad type in Google Ads, use AI to automatically test up to 15 headlines and four descriptions. Google provides ad strength ratings (bad, average, good, or outstanding) and individual asset performance ratings (learning, low, sound, or best).
Use these ratings as a reference for optimization, and apply marketing best practices and automatic asset suggestions to effectively highlight features, benefits, and calls-to-action.
Targeting by location
Optimizing location targeting based on business objectives and performance metrics is a good approach.
When geo-targeting is offered in several more specific options, such as state, cities, zip codes, a radius around an address, and more, some advertisers may choose the convenient setup in the PPC platforms, which may automatically select broad target areas such as a whole country.
To maximize the areas where your adverts are served, take into account the following strategies:
(1) Adjusting your bids will make it more likely that people in the area you wish to reach will click on your ad.
(2)Putting a city on top of the state and raising the bid to benefit that city over the rest of the state.
(3) Excluding areas where you don't operate or where it's unlikely that you'll obtain qualified leads or clients.
Advertisers can view performance by the segment they choose in the location view below and then assess performance.
Increase bids for places that produce well, and think about lowering or eliminating bidding for locations that don't convert as well.
Remember that more precise location targeting can be more effective while reducing reach.
The reports should be viewed to examine the results for the different geo segments and optimize them.
Conversion Activities
Check your conversion actions in light of the recent release of GA4. Several items to consider are:
(1) Immediately migrate goals from Universal Analytics to GA4.
(2) Verify the effectiveness of the conversion tracking.
(3) Verify that your company's key performance indicator (KPI) is the primary conversion.
(4) Could you introduce new conversion actions to obtain more detailed information on PPC performance?
Think about a range of conversion strategies.
For instance, tracking transactions, email signups, whitepaper downloads, or chat interactions might help us understand how users interact with adverts on the website and how engaged they are.
Final Thoughts
There are always opportunities to optimize an account through frequent PPC adjustments because individuals never stop looking.
As always, if this post gives you any fresh optimization concepts, include them in your plan and start immediately putting them to the test.
September 20, 2023
In today's digital age, having a strong presence on social media is crucial for businesses and pr
September 15, 2023
In the ever-evolving world of digital marketing, Search Engine Optimization (SEO) plays an import
September 13, 2023
PPC optimizations are essential to enhancing the effectiveness of your paid search advertising ca