A detailed guide for local SEO in 2022
A detailed guide for local SEO in 2022
For small trades, the local search turns out to be very powerful. Around 46% of all Google searches span local information. So, if your business is not optimized for local search, you might miss out on a good number of loyal local customers. Therefore, local SEO is essential for your business to be relevant.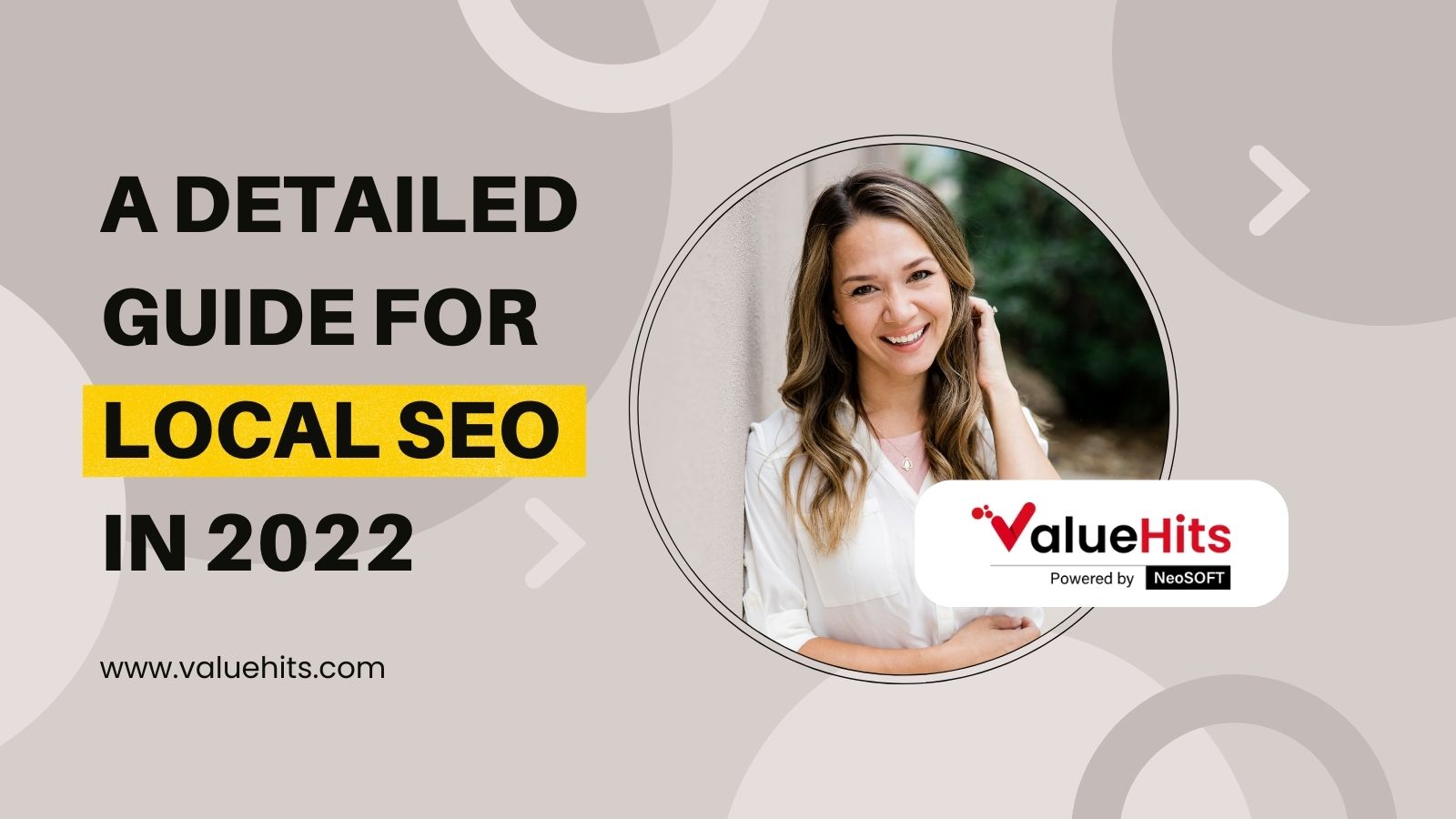 However, if you wish to optimize your local SEO, we are here for you. Here are a few SEO tips and tools for optimizing local SEO.
Till you reach the end, you will understand how to optimize your local SEO for gaining potential customers. This will help your customers, which products or services are suitable for them to buy.
What is local SEO?
Local SEO (Search Engine Optimization) is a unique process of improving visibility for local businesses on search engines. With basic and good tools, you can easily improve your organic traffic from the searches made by customers in your area.
Search engines depend on signals from local content, social profile pages, links, and citations to provide relevant data to the user nearby.
By performing local SEO, businesses can use this position for products and services for local prospects and customers searching for them.
1. Add updated and consistent name, address, and phone number on the internet
You need to make it easy for people and search engines to find you effortlessly; for this, you need to set a NAP.
What does NAP mean in local SEO?
NAP (the name, address, and phone number of a business). Your NAP should be a crawlable HTML text for your website for Google search spiders to display it better as per the location-based searches.
Image Source :hubspot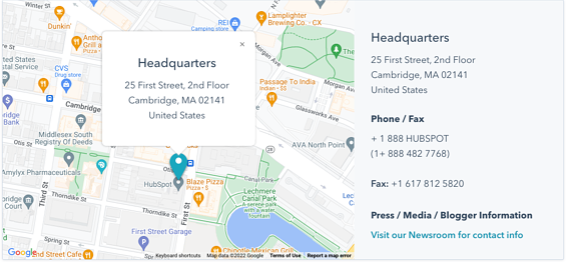 Here is an additional tip for you, avoid the usual mistake of including the NAP in an image; it is a disaster and a waste. Search spiders cannot crawl the image text.
The most common place for NAP details is at the header or the footer of the website. Also, you must add NAP details on the "Contact Us" page, too.
2. Remember to optimize your Google My Business.
Google My Business has become a dominant trait in local search. As Google supports, verifies, and shares its data big-heartedly, Google My Business is the best tool for optimizing local SEO.
To make sure you are optimized for Google My Business, you will need to follow these steps:
Start and verify your Google My Business page.

Use Google Posts in your account.

Appeal to your customers to share their reviews online.

An authentic response to these reviews are necessary, which is a specified location. For instance, "We appreciate your response on [product/service] in [city, state]. We value your input and look forward to working with you again. Thank you from the [full companyname] team."
If Google verifies your business, the search engine can easily reward your business with a coveted sidebar space in Google's local search.
Image Source :hubspot

However, do not do this for SEO only. If you are having reviews and keeping all your business information up to date, you are increasing the chances of potential customers searching you on Google. Getting relevant and latest information is essential to customers now, more than ever. It all began when the pandemic stopped the world and shopping went digital.
3. Optimize online directories and citations.
Below given four map data aggregators provides map details to Apple, Yelp, Bing, Google, Trip Advisor, etc:
Express Update

Neustar Localeze

Foursquare

Factual
Therefore, consistency is the key, make sure to verify the citations are consistent and complete on all the data aggregators.
Inconsistencies like misspellings, abbreviations, lack of suite number, or wrong phone number can create unnecessary problems.
If Google cannot determine, which information regarding your business is relevant, it may not show your website on the search pages.
Make sure to eliminate all the duplicate listings you find in online directories. While doing this, get membership of the Chamber of Commerce in your community to gain an external inbound link that is specific to your location.
4. Be active on social media and add posts to GMB
According to Google, content that is shared on social media is more important.
So, after the completion of the Google my business page, share it on social media for aligning the social and Google searches.
5. Perform a local SEO audit.
Once you are done with important tips, we know now you want to put a brake on this process. However, SEO is an ongoing and volatile process. Instead of stopping there or simply making some changes and seeing what works consistently, it helps for performing a complete audit to study where your website and products stand and what goals you need to work on. A local SEO audit should include:
Google My Business Audit - How does your Google My Business appear in SERPs? Is the information accurate?

Google Console Audit - Is your website easily crawlable? Does it hold any errors that would damage the indexing?

On-Page SEO Audit - Does your site have all the on-page SEO elements to boost ranking?

Citation Audit - Are all of your citations correct in the ranked business directories?

Competitor Analysis – Is your website matching with your competitors? Does your website have any gaps that you need to fill in? How do you match up in terms of inbound links, content, design, and ranking?

Website Audit – How good a website is ranking on search engines?
6. Optimize URL, headers, meta description, title tags, and content
When discussing your content, your new blog post is your new indexed page for your website. It is a new page, which targets a geographic search, and a new chance to get found in SERPs.
Every time you create a unique piece of content, you need to optimize the content, as per the search engines by adding high-volume keywords in the URL, title, header, Meta description, and body. If you are facing trouble ranking up with geo-targeted content, try highlighting customer success stories and case studies.
The higher specifications you add to these assets, especially for every location of your business, the better you will optimize your local SEO search.
7. Improvise your internal linking structure.
However, external links that point to your website are ideal; modifying your internal linking structure will surely boost your SEO rankings.
Why is internal linking essential? It helps to:
Support website navigation

Assist with information architecture, including website hierarchy

Allocate page management and ranking power among pages
If you are working to change your internal linking structure but are not sure how and where to start, you can use Kissmetrics' The Seven Commandments of Internal Linking for Top-Notch SEO.
8. Add location pages to your website.
If you have more locations, create location pages. Location pages offer more information regarding your business such as promotions, and reviews from happy consumers.
You must avoid duplicating content across several location pages. For single-location businesses, generate a local description like about us. You can even attain brownie points if you add a Google map to your website on your respective location page(s).
9. Create local content.
Day by day Google is reaching new heights of being smarter. Content creators can create content based on customer perspective users and less to conciliate search engines. When writing about general topics, it will attract a huge range of crowds; sometimes it is essential to focus and write about your business to attract new customers.
Be the local authority for promoting industry gatherings, news, employees, and other educational content on your blog. Always think of out-of-the-box ideas for content that goes beyond what your business has to sell.
For instance, if you are a local security company that is new to the location, generate a helpful resource for these businesses well-acquainted with your city. A map of local service providers or a calendar city-wide could generate high levels of local SEO signals.
10. Get inbound links with authority and better relevancy
Inbound links hold high potential to increase traffic with SEO — every inbound link will tell Google you are a legitimate company, and inbound links will also increase your domain authority. Here are a few ways to generate inbound links:
Sponsorships or Partnerships

Guest Blog Posting

Scholarships
Began with your network and include the Chamber of Commerce, business improvement districts, licensing bureaus, trade associations, resellers, vendors, manufacturers, and other affiliates.
Also, try to arrange a webinar or meet-up, host a community event, promote something local that you like, and build relationships with professional influencers. In addition, try to become comfortable reaching the partners to see if they can feature you in the partner directory.
In addition, guest blogging can attract lots of links. Positively communicate with other people in your industry, and act as a resource for the community. If you are an active participant in community communications, the increasing buzz generates more inbound links, social media growth, and media coverage.
11. Your website must be mobile-friendly.
Local and mobile searches are closely connected. Around 61% of all Google searches are carried on mobile.
Some of the most common ways people will use your website in a mobile environment are to check your customer reviews, directions to your office, and search for contact information. In fact, "near me" searches have boosted by 250% since 2017.
Therefore, increase your business more mobile-friendly to increase your SEO traffic.
12. Participate in your local community.
The higher the participation in the local community, the more digital PR you will receive. Partnering with a non-profit on a campaign, arranging a volunteer day in your organization, sponsoring an event, or appearing in the local media as an authority in your industry are good ways to gain press, brand awareness, and inbound links.
For instance, .edu links are the bee's knees for domain authority, earn such links by featuring a scholarship in your geographic area. However, it must be relevant for your industry, send the right signals to your domain and make you feel good!
Local SEO Tools
Now that you have learned how to optimize your business for local SEO, we will tell you some tools to improve your ranking in your locality.
1. Whitespark Local Citation Finder
Pricing: Small Business Plan; $25/month, Specialist Plan; $50/month, Agency Plan; $100/month, Enterprise Plan; $200/month
Image Source :hubspot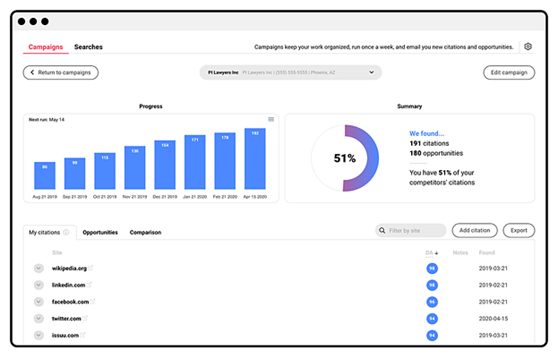 A local citation is an online mention of any local business name, address, and phone number.
Citations are essential as they help make a local business visible in SERPs. When local businesses manage to ensure data accuracy, it promotes reliability in these online listings.
Whitespark tool knows this fact very well. Whitespark provides local listing management, recommends where you can list your business, determines your competition, and firmly builds and checks your citation growth for better ranking.
2. Moz Local
Pricing: Lite Plan; $14/month, Preferred Plan; $20/month, Elite Plan; $33/month
It is comparatively cheaper than other similar apps; Moz Local will make sure that the business listing is verified by Google and Facebook and distribute your listing through the search ecosystem.
Also, Moz Local acts to collaborate with data aggregators to help push listings, assuring your business visibility increases.
Image source :hubspot

3. Screaming Frog
Pricing: Free Basic Version, Paid Version; $209/year
Image source :hubspot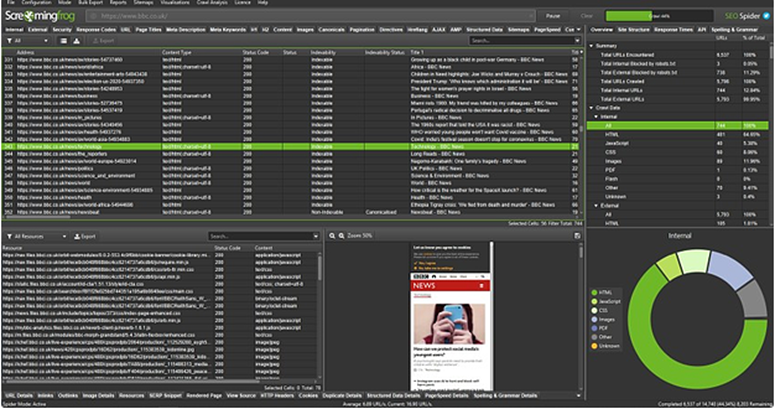 This program crawls websites' links, images, CSS, scripts, and apps from an SEO point of view. Screaming Frog works efficiently to analyze up to 500 URLs for free, and unlimited URL analysis can be done in paid versions.
4. hrefs
Pricing: Lite Plan; $99/month, Standard Plan; $199/month, Advanced Plan; $399/month, Enterprise Plan; $999/month
Image source :hubspot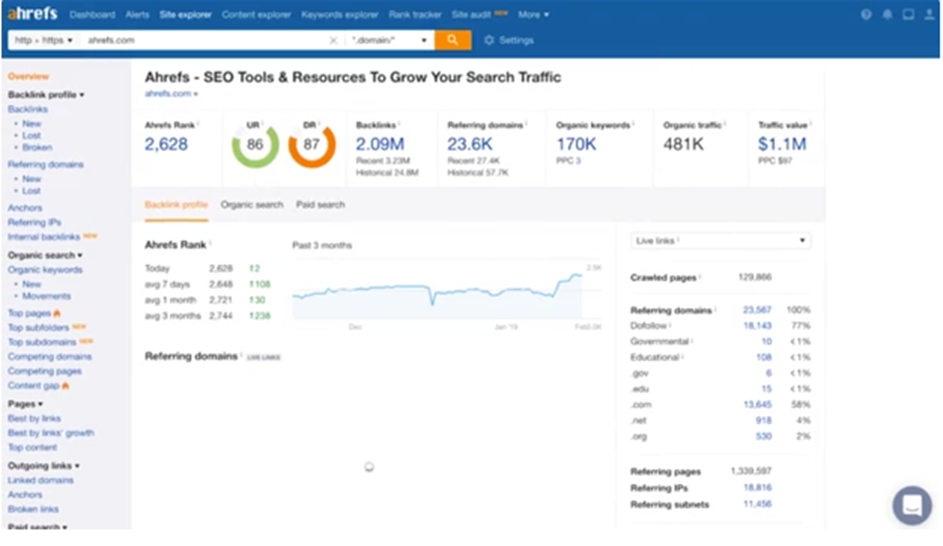 Arel="no opener" target="_blank" hrefs assists for backlink checking; it is essential as these links show the website's authority.
Arel="no opener" target="_blank" hrefs provides competitor analysis, keyword research, and insight into other websites' anchor text while backlinking to your websites.
5. BrightLocal
Pricing: Single Business Plan; $29/month, Multi Business Plan; $49/month, SEO Pro Plan; $79/month
Image source :hubspot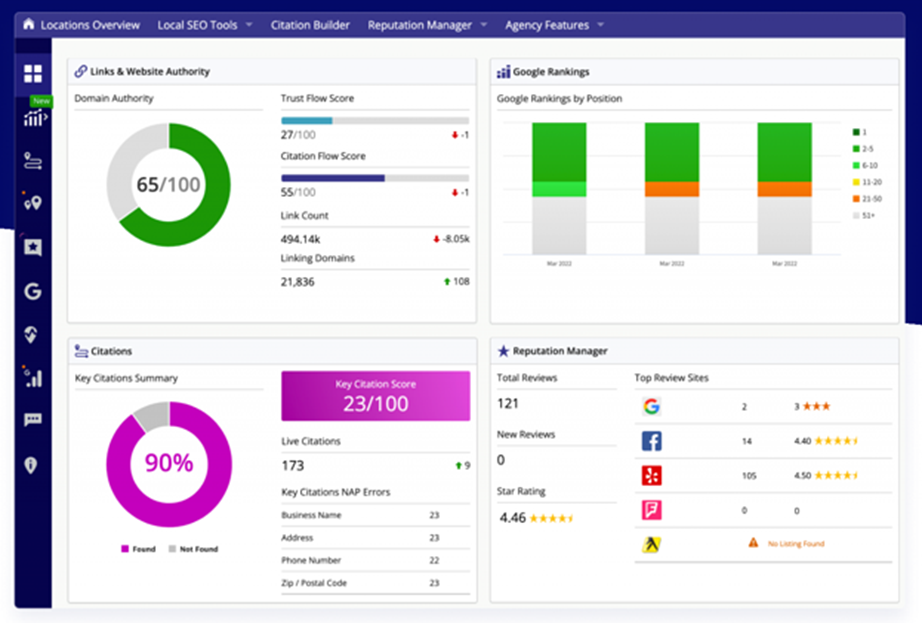 BrightLocal is a complete SEO tool suite built for local business needs.
The tool can work to create and monitor reviews on local sites, understands your local performance better, and check nearby competitors.
BrightLocal also works to give client access and white-labeled reporting.
6. Buzzstream
Pricing: Starter Plan; $24/month, Growth Plan; $124/month, Professional Plan; $299/month, Custom Plan; $999/month
Image source :hubspot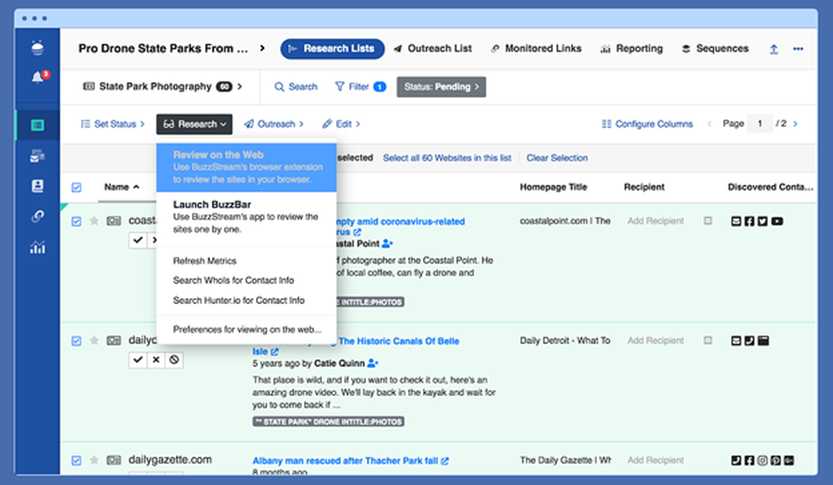 BuzzStream helps earn local backlinks that help you identify and collaborate with local influencers by searching these influencers, tracking conversations, and giving insights into your outreach campaigns, team performance, and link placements.
Conclusion
Local SEO is very essential for a promising SEO Company in Mumbai to grow your business. Local SEO helps your audience find you when they search for some relevant services.
September 20, 2023
In today's digital age, having a strong presence on social media is crucial for businesses and pr
September 15, 2023
In the ever-evolving world of digital marketing, Search Engine Optimization (SEO) plays an import
September 13, 2023
PPC optimizations are essential to enhancing the effectiveness of your paid search advertising ca